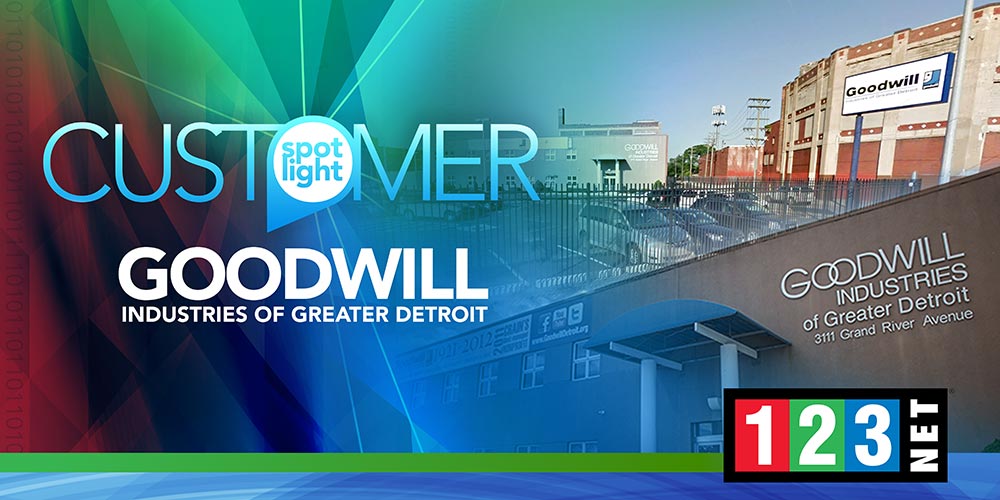 At a Glance
The Detroit branch of a national nonprofit utilizes 123NET's services to support two locations
Customer
Goodwill Industries of Greater Detroit (Goodwill Detroit)
Industry
Nonprofit
Opportunity
Goodwill Industries of Greater Detroit needed a solution for one of their stores in a low-infrastructure setting and a backup service at their headquarters location.
Solution
With 123NET, Goodwill Detroit was given a solution with one provider addressing both of their concerns. 123NET's Fixed Wireless isn't reliant on the high-cost infrastructure that other providers needed to build Goodwill's Livonia store, making turn up easier and more cost-effective for the nonprofit. This same infrastructure style, reliant on microwave technology, was completely separate from the primary circuit Goodwill Detroit had at their headquarters, making it the ideal backup for their network.
The Challenge
Goodwill Detroit needed an internet solution for their Livonia store location and a backup circuit for their main office. The Livonia store was in an area limited by infrastructure, leaving them vulnerable, either without internet altogether, or reliant on a dial-up or 3- or 4G connection. "There was just nothing else available," said Mark Maher, Vice President of Information Technology at Goodwill Detroit. "The other options were just too slow, and we needed something that could handle our daily traffic." Between VPN communication with the main office, Point of Sale traffic on the store floor, running regular traffic and updates, maintaining the security system, and investing more heavily in cloud-based applications, high bandwidth was a necessity."
Mark was committed to finding an internet service provider that could help Goodwill Detroit manage the store's needs and provide access diversity for their headquarters in the event their primary circuit was compromised.
Results
123NET is making it easier for Goodwill to support the Metro Detroit community, "We have more options with 123NET because they offer end-to-end solutions and scale with us as we grow. Since we first opened, our need for internet access and VPN access has increased and we've become more in-depth with our cloud-based application usage. Having the kind of bandwidth 123NET provides has made a huge difference in how we operate," according to Mark.
Partnership
"123NET works with Mark and Goodwill Detroit to create a positive solution and experience, "the Fixed Wireless has been great, we haven't had any issues over the last couple years. To me, the service is either going to work or it isn't, that isn't what makes a company stand out. It's the high quality of support that we receive from 123NET when we call in, the knowledgeable staff who are always thorough and polite, and the great tools that are offered to view and manage our account that make this company stand above the rest"
Services Provided
Fixed Wireless, PRI