Fixed Wireless Business Internet Overview
Michigan's Largest Local Provider of High-Speed Fixed Wireless Internet
123Net's Fixed Wireless technology provides carrier-grade Ethernet connectivity delivered by microwave technology. Fixed Wireless is an excellent solution for high-capacity applications supporting voice, Multi Protocol Label Switching (MPLS) and Dedicated Internet Access (DIA) services. Fixed Wireless has 100% access diversity from traditional local exchange carrier (LEC) routes and offers a high-speed access alternative for businesses that require a quick installation.
Fixed Wireless available for businesses only.
Quick Installation
123Net's Fixed Wireless bypasses fiber and copper by beaming transmissions through microwave radios. Build-out costs and permitting can be avoided using Fixed Wireless. Installation can typically be ready in 7-14 days for 30 Mbps or less, or within 30 days for speeds greater than 50 Mbps.
Network Diversity
123Net's Network Diversity solutions support a broad range of products. Protecting critical voice and data traffic for your unique requirements is designed individually by a 123Net engineer. Add network diversity to support important voice and data services. Network diversity designs can include diverse and single route fiber, a fixed wireless connection or a cost-effective option such as Ethernet over Copper (EoC).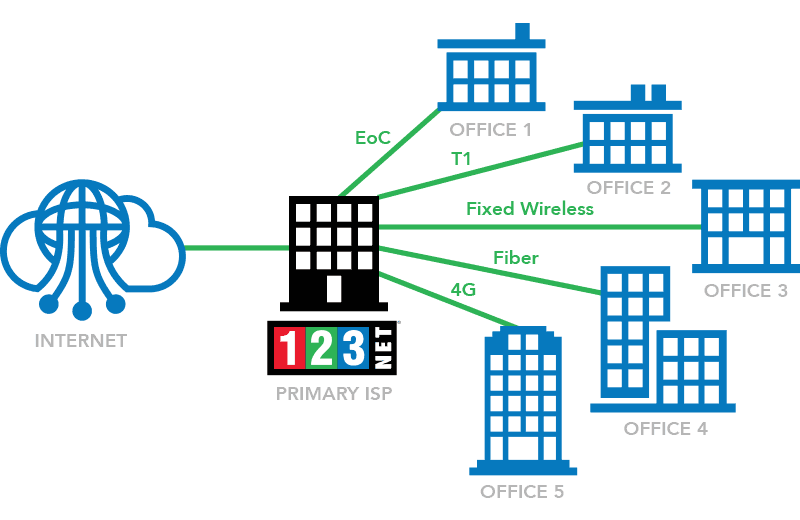 Custom Fixed Wireless Solutions
CAMPUS WIRELESS
Specifically designed from a single antenna to multiple buildings delivering high-speed data quickly and easily without any construction constraints.
OFF-NET POINT TO POINT
Provide a point to point connection where 123Net has no presence.
Temporary Fixed Wireless Solutions
PREMIER EVENT WIRELESS
Provides a rapidly deployed, high-speed internet access that is ideal for conferences (e.g. TEDx), trade shows, concerts (e.g. Jazz Fest and Electronic Music Festival), and more.
CONSTRUCTION SITE WIRELESS
Fixed wireless provides construction sites with a high-speed temporary internet connection, usually for the duration of the construction project.
Fixed Wireless Features
Quick Installation: 7-14 day install on 30 Mbps or less. 30 days or less on speeds greater than 50 Mbps
Scalable Bandwidth: Symmetrical Speeds up to 10Gbps
Compatible Integrated Service: Use Fixed Wireless while waiting for your 123Net Fiber installation
Service Support: Supports Ethernet Private Line (EPL), Ethernet Virtual Private Line (EVPL), Dedicated Internet Access (DIA), Multiprotocol Label Switching (MPLS)
Secure: Delivered using 128-bit AES encryption and line of sight connectivity
Network Diversity: Provides high-availability network operations in the event of a wireline outage
Fixed Wireless Locations
Service is currently available in these areas with ongoing expansion into new cities throughout Michigan. 123Net has over 55 Fixed Wireless PoPs in Michigan
Ann Arbor
Auburn Hills
Bloomfield Hills
Byron Center
Canton
Chelsea
Chesterfield
Dearborn
Detroit
Farmington Hills
Ferndale
Flint
Grand Rapids
Grandville
Lansing
Livonia
Milford

Mount Clemens
New Haven
Novi
Plymouth
Pontiac
Rochester
Romulus
Roseville
Saginaw
Saline
Southfield
Southgate
Sterling Heights
Troy
Warren
Westland
Wixom
*Subject to availability. Installation time and speed availability may vary by address. Other conditions may apply. Subject to the terms and conditions of your written 123Net Service Agreement.
Campus Wireless
Campus Wireless provides multiple connections for a single user in a Campus environment. Specifically designed to allow a customer to deliver high bandwidth quickly and easily without any construction constraints. The proximity from single antenna to multiple buildings allow high density data traffic to also scale to additional structures when needed.
Single Customer
Faster Deployment
Scalable
Cost Effective
Premier Event Wireless Internet
Premier Event Wireless provides the customer with a temporary, rapidly deployed, high capacity Dedicated Internet Access service ideal for conferences, trade shows, concerts, special events, temporary offices, and more. 123Net is one of the few Michigan-based provider of Fixed Wireless that offers a short-term solution that is scalable, easily deployed, reliable and proven. 123Net has the capability to support technology needs for large conference and entertainment venues as evidenced by work on behalf of TEDx, Jazz Fest and Electronic Music Festival, and many other events where complex technical requirements were needed.
Temporary Connection (day, week or longer)
Access areas that are difficult to reach with traditional wired service
Single Customer
Fast Deployment
Scalable
Cost Effective
No long-term commitment or costs associated with traditional service agreements
Construction Site Wireless Internet
Construction Site Wireless provides builders with high capacity bandwidth for a temporary internet connection, usually for the duration of the construction project when there are no wired connections available. When large data transfers are required with low-latency, having a reliable connection is critical, as well as the flexibility to deliver the information anywhere at the construction site. 123Net Construction Site Fixed Wireless provides scalable options and reliability that cell services can't.
Temporary Connection or long term redundancy option
Access areas that are difficult to reach with traditional wired service
Single Customer
Fast Deployment
Scalable
Cost Effective
"As a business in an area limited by infrastructure, we had to rely on a very slow DSL service in the past. 123Net resolved that problem through a fixed wireless solution. For a minimal set up cost, we now receive dedicated high-speed internet service. It has been almost a year since we began our relationship with 123Net and we have not had a single outage since."