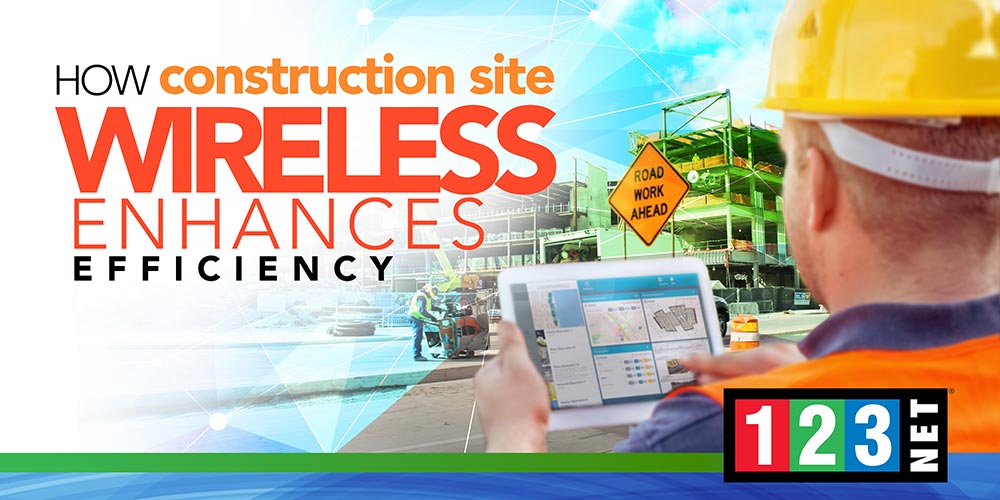 Construction companies need reliable, high-speed internet connections to accomplish tasks in a timely and efficient manner. Weak internet connections, or a lack thereof, slow the communication process down, directly impacting productivity. That is why 123NET offers construction site wireless, delivering temporary lightning speed Internet to remote locations. Here are a few of the reasons why fixed wireless is a must-have for construction sites
Fast Deployment
Fixed wireless internet connections are quickly and easily installed. Instead of taking weeks, or sometimes months, to feed a physical Internet connection to a construction site, workers will have access to high-speed connectivity in a matter of days. Construction crews can take advantage of rapid deployments by starting projects months ahead of schedule.
High Capacity Internet
Construction site wireless not only gives individuals the capacity to deliver large, business-critical files such as blueprints in a matter of seconds. It also gives workers access to a limitless number of applications that can be used to communicate effectively. Less efficient forms of communication such as walkie-talkies and inconsistent 4G/LTE technologies can slow the pace of work.
IP Failover
Fixed wireless services offer a seamless IP failover option for construction sites. When another connection fails, a diverse wireless connection will ensure that the site remains connected. Some businesses even use fixed wireless for its rapid deployment initially, keeping the service as a permanent failover solution moving forward.
Companies that do not utilize high-speed fixed wireless connections at construction sites are at a tremendous disadvantage.  123NET's construction site wireless provides reliable, consistent internet needed to boost the efficiency of your operation.  To learn more about how 123NET can service construction based business visit our construction industry page or call us today for a quote.