DATA CENTER & COLOCATION
Reduce the Headache of Maintaining Your Own Data Center
Michigan's Most Connected Data Centers
Today's organizations are dependent on the quality and availability of IT applications for their day-to-day operations. Disruptions to services can be costly, even for a few minutes, especially to a business highly dependent on system and application connectivity. To remain competitive, Michigan companies need high-speed reliable networks that allows them to focus on core competencies and market differentiators with minimal overhead.
Let's face it, operating and maintaining your own data center is complicated, time-consuming, and done properly is quite expensive. Colocating your infrastructure in a 123NET Data Center is a cost-effective, secure, and highly connected alternative to maintaining your own space.
123NET owns and operates four Tier 3, carrier-neutral data centers within Michigan. These facilities have redundant cooling, uninterruptible power, and yearly compliance audits to ensure your data is accessible 24/7.
100% Power Uptime Guaranteed
123NET's 2(N+1) power and cooling system is constructed to ensure no single point of failure.
Stay Connected to Your Data
Always have a tech on-site with 123NET's 24/7/365 Network Operations Center.
Business Continuity Planning
Disaster recovery and colocation options ensure that your network is always safe, secure, and accessible.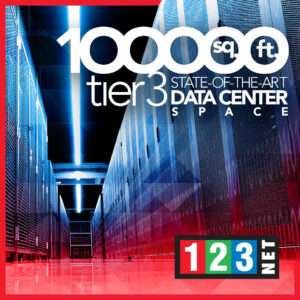 Private Suite, Cage or Cabinet
123NET offers primary, secondary, and disaster recovery colocation solutions that include half and full racks, secure cages, and dedicated private suites. Diverse A and B side power (separate PDUs, Panels, Transformers, Generators) are available upon request.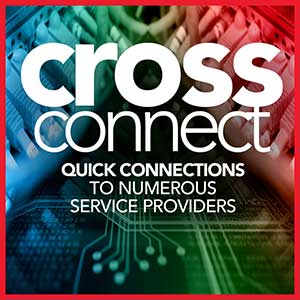 Cross Connects
Cross Connects are another way that 123NET's Data Centers facilitate greater connectivity. They reduce access costs to separate carriers, internet providers, other businesses, or the Detroit Internet Exchange ensuring all of your facilities are communicating.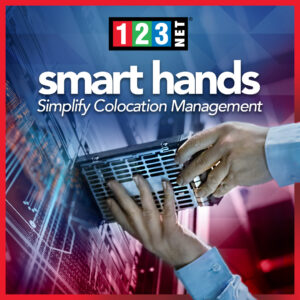 Smart Hands Service
123NET NOC technicians will serve as your on-site team of experts, providing remote management, monitoring and troubleshooting 24/7/365. This gives your personnel the freedom to focus on other important aspects of your business.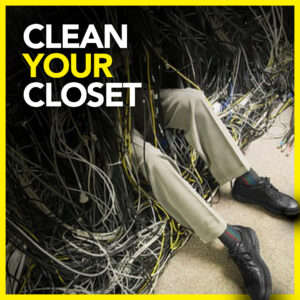 Disaster Recovery Space
Clients can expand their business continuity plan by investing in a disaster recovery space. Available in either private or shared space configurations, each service comes with connectivity and additional security options.
Features
Security
Every 123NET data center has building security measures that include multi-factor authentication, electronic badge access points, and camera footage covering every aspect of the data center.
Diverse Carrier & Transport Options
123NET Data Centers are carrier neutral with access to over 70 internet, transport and cloud on-ramp providers.
Purpose-Built Colocation Facilities
Designed and built for mission-critical performance and scalability, our Data Centers deliver uninterrupted uptime with access to security and physical asset protection. It is backed with a 100% Service-Level Agreement, with a 15-minute response time.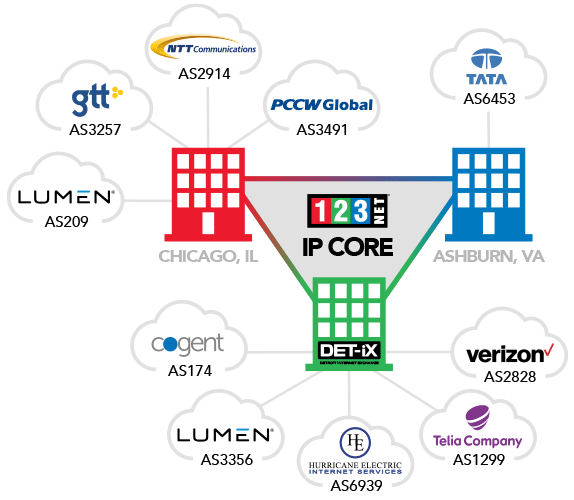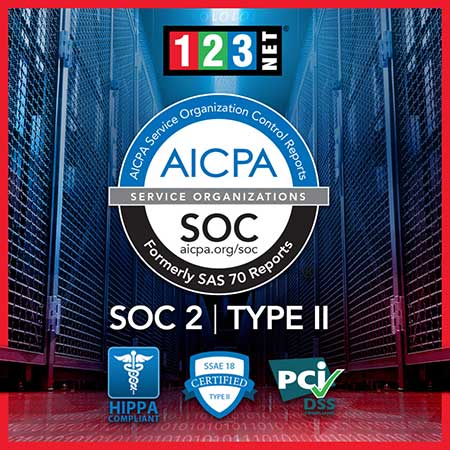 Secure, Compliant & Carrier Neutral
123NET Data Centers are SOC 2, Type II / SOC 3 Compliant
SOC 2 compliant data centers ensure your data is protected by a facility that has been audited by an independent, accredited firm that benchmarks privacy, security, availability and more. A SOC 2 report confirms that a data center features all the following controls in place:
Security: Physical and logical protection against unsanctioned access.
Confidentiality: All information is classified and protected as agreed upon.
Processing Integrity: System processing is accurate, timely, and complete.
Privacy: Personal Information is collected, used, and retained as agreed upon.
These standards are critical for companies that need to meet strict federal compliance requirements.
HIPPA
123NET's HIPAA compliant data centers provide the necessary physical, environmental, and network security required to protect patient information and meet HIPAA compliance standards.
PCI-DSS
PCI compliance is a requirement for all institutions that store valuable credit card data. 123NET's data centers can provide the physical, environmental, network and infrastructure security needed to protect sensitive cardholder data and meet PCI-DSS compliance standards.
SSAE-18
SSAE-18 compliance is a measure of relevant controls for financial reporting.
"We provide real-time video communications technologies and custom applications in the health care, banking, virtual event, higher education, e-learning, and business collaboration industries. 123NET makes it possible for a small company like ours to compete with much larger organizations, delivering service that meets and exceeds the highest standards."
Bill Dunning
Innovations Applied