DARK FIBER
Manage & Control Your Own Network
Unlimited Scale Through 123NET's Dark Fiber Network
CONTROL, FLEXIBILITY & ULTIMATE SCALABILITY
123NET's Dark Fiber provides limitless capacity while providing maximum control and flexibility over your network. This service eliminates the time-consuming process of designing, permitting, and constructing your own expensive fiber infrastructure between multiple office locations while removing dependencies on the incumbent carrier.
PREDICTABLE COSTS FOR SCALABLE BANDWIDTH
Dark fiber provides a great cost structure for higher bandwidth needs when compared to traditional internet payment approaches. 123NET's Dark Fiber allows you to increase network speed without incurring additional monthly fees. This solution becomes a better option for larger or expanding businesses that need more than 1 Gbps connectivity.
NETWORK CONSIDERATIONS
Dark Fiber networks can be designed in rings, point-to-point, or point-to-multipoint configurations with single lateral or diverse routes. Enterprises who utilize these networks can expect swift speeds and increased security over standard cable networks.
Operational Control
With a dark fiber network, organizations can connect their equipment to the fiber and control the network end-to-end with virtually unlimited bandwidth.
Increased Performance
Dark fiber provides the most direct and efficient path from end to end compared to traditional commercial internet services that are built with many stops between point A and B.
Maximize Security
Secure data and meet industry regulations with a completely private and protected network.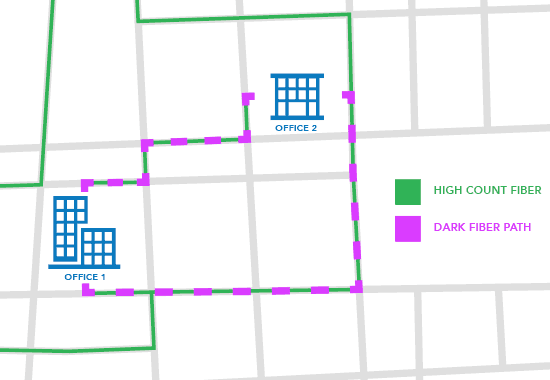 Features
123NET'S Dark Fiber can provide the network infrastructure that your organization needs to support critical applications. This service supports many configurations, services and applications (Ethernet, SONET or DWDM).
Single Mode Fiber (Exceeding ITU-G.652D Specification)
E-rate Category 1 Eligible
Long-Term Lease & IRU Options Available
Available Designs Include Single Entrance, Dual Entrance, Ring, Hub & Spoke, or Point-to-Point
99.99% Service Level Agreement
"123NETsuccessfully helped RPT Realty accomplish its goals of upgrading and enhancing our systems in a timely and economically efficient manner. They were able to personalize RPT Realty's needs and create a customized plan which positively impacted the company as a whole. I had worked with them in both of my previous positions and found a mindset of deep support, technical acumen, and strong partnership."
Bill Piper
RPT Realty – Information Technology Vice President