Broadband Equity, Access, and Deployment – BEAD Grant
Want to help bring connectivity to your area?
Broadband Equity, Access, and Deployment (BEAD) Program: Michigan's Guide to Broadband Accessibility
What is the BEAD Program?
The BEAD Program is a big project. It uses $42.45 billion from the federal government to bring high-speed internet to everyone. This includes all states, Washington D.C., Puerto Rico, and other U.S. territories. The money helps with planning, building infrastructure, and starting programs to make sure everyone can access broadband.
Internet Access in Michigan
High-speed internet is undeniably crucial in today's world. However, in Michigan, not everyone enjoys equal access to it, highlighting what's commonly referred to as the digital divide. As of 2023, a staggering 492,000 homes in Michigan lack adequate high-speed internet service. Furthermore, another 730,000 homes grapple with challenges such as cost, device access, and digital literacy. Consequently, this indicates that around 30% of Michigan homes face some form of digital divide. Alarmingly, this issue is more pronounced among low-income households, the elderly, and racial or ethnic minorities. Additionally, given that the majority of Michigan's counties are rural, securing and affording broadband becomes even more challenging.
High-speed internet is essential for various aspects of daily life, including education, employment, healthcare, and more. Intriguingly, the Michigan Department of Labor and Economic Opportunities believes that making broadband universally available could unlock significant economic opportunities annually. Ultimately, Michigan aspires to bridge the Digital Divide and enhance digital equity.
The BEAD Program in Michigan
In Michigan, initial proposals for the BEAD broadband program center around financing infrastructure and reducing internet service costs. This encompasses the introduction of a "middle-class affordability plan" and a BEAD "low-cost broadband option" for all BEAD grant recipients. Consequently, Michigan authorities anticipate incorporating these strategies into the planning documents they submit to the National Telecommunications and Information Agency (NTIA) for financial support.
However, it's essential to understand that the BEAD low-cost option may not cover everyone. It might only need to be offered in areas that get BEAD grants.
Working Together: The 123NET and Allegan County Example
A prime illustration of collaboration in Michigan involves 123NET and Allegan County. Together, they secured a $30 million grant to construct an open-access, carrier-neutral fiber network for Allegan County. Notably, this grant originated from the Michigan Realizing Opportunity with Broadband Infrastructure Networks (ROBIN), which is a competitive high-speed internet infrastructure grant program. Consequently, this initiative will furnish more than 12,000 homes in Allegan County, which currently suffer from limited connectivity, with internet speeds soaring up to 10 gigabits per second. As a result, this endeavor will position Allegan County as one of the most well-connected counties in Michigan.
More Information on the ROBIN Program Project.
Middle-Mile Application Examples
PFN (Peninsula Fiber Networks) submitted the Infrastructure for Michigan's Peninsula and Critical Crossings (IMPACC) project in September last year, with 123NET participating as a sub-recipient. "One of the many unique things about this project is the partnership between PFN and 123NET. Each will own and operate part of the network, doubling the project's impact for the state." Said Dan Irvin, CEO of 123NET.
A pivotal element of the project involves the installation of two new fiber cables. These will be strategically placed under Lake Michigan, linking 123NET's Data Center in Grand Rapids, MI, to a leading connectivity hub in Chicago. Irvin remarked, "Remarkably, this will mark the debut of a carrier-neutral fiber optic cable spanning across Lake Michigan. We anticipate a significant surge in access coupled with a reduction in the state's connectivity expenses. Furthermore, this route promises diverse, swift connections between Grand Rapids and Chicago as well as Detroit and Chicago. Most importantly, every underserved community en route will benefit from this top-tier network."
The extensive project also includes 535 miles of network passing through the following counties: Berrien, Van Buren, Allegan, Lapeer, Macomb, St. Clair, and Genesee. The following municipalities are also included: Benton Harbor, Benton Heights, Byron Center, Dorr Township, Grand Junction, Hartford, Hopkins, Imlay City, Lapeer, Lawrence, Lesterville, Memphis, and St. Joseph.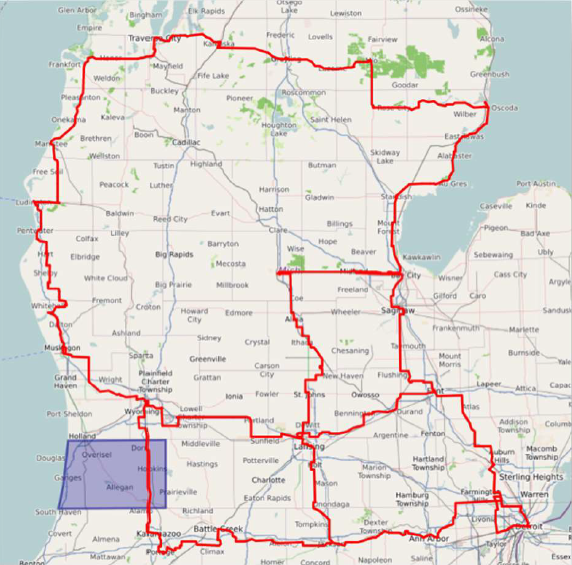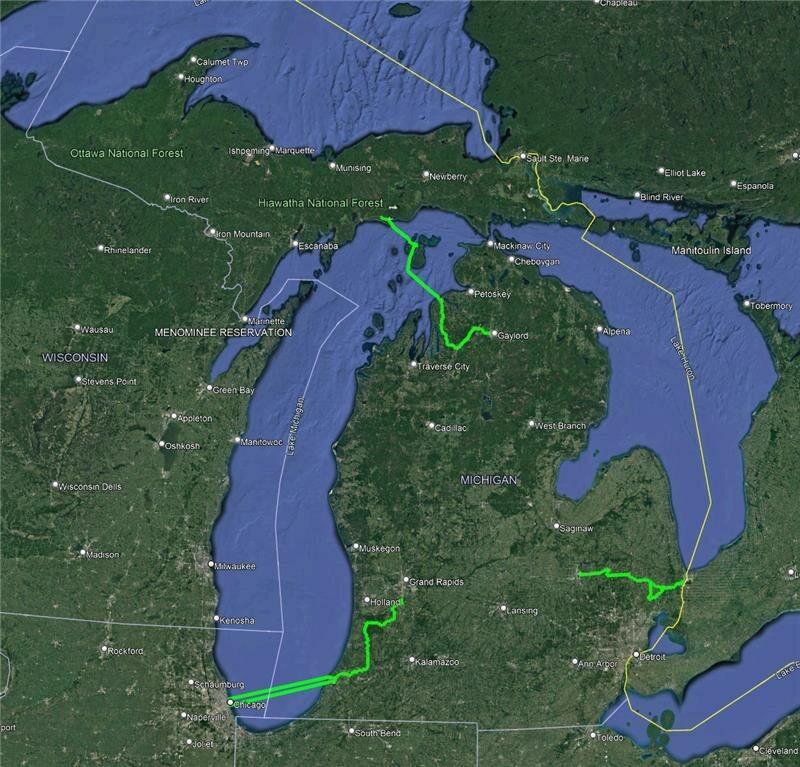 456,000+
---
Michigan Houses Lacking Any Access to Broadband
Michigan has at least 456,000 homes that lack access to broadband.
1.24M
---
Households Without a Permanent Internet Option
An estimated 1.24 million Michigan households (31.5%) do not have a permanent, fixed internet connection at home.
20th
---
Lowest Broadband Adoption Rate
Michigan has the 20th lowest broadband adoption rate when compared to other states.
$1.5B
---
BEAD Funding for Michigan
The BEAD funding will be used to deploy or upgrade broadband networks to ensure that everyone has access to reliable, affordable, high-speed Internet service.
*Data derived from 2021 Update to the Michigan Broadband Map – Michigan Office of High-Speed Internet and Internet For All – BEAD Press Release.
Who Can Join?
The NTIA wants different groups to help with planning. This includes people from covered populations, state agencies, labor unions, worker groups, digital inclusion coalitions, chambers of commerce, industry groups, public housing resident groups, healthcare systems, and networks.
Money for Communities
Once the NTIA says yes to the state digital equity plan, states can apply for State Digital Equity Capacity Grants. You can use these funds, along with BEAD program funds for digital equity, to support programs that assist in broadband adoption, facilitate Affordable Connectivity Program enrollment, provide basic digital skills and specialized application training, offer cybersecurity training, and more.
The BEAD Program and the Digital Equity Act, both part of the Infrastructure Investment and Jobs Act, provide a lot of money for expanding high-speed internet access and digital equity across the United States. They offer chances for states, local governments, nonprofits, and private companies to join in and benefit from these programs.
When applying for funding, being ready is very important. Here are some steps you can take to prepare for the application process:
Start the process early to stay ahead.
Learn about the BEAD program, which has a lot of money available.
Learn what is needed to unlock matching funds, often needed for grant applications.
Use a Community Broadband Audit. This can provide important information about an area's internet reality, which can be important in showing the need for funding.
Research your area and apply for one or more BEAD projects. You can also invite others to join the project.
Work with communities and providers to meet the NTIA local coordination guidelines.
Make your case with the Michigan High-Speed Internet Office and the NTIA.
Invite a consultant to your application or get help from expert partners.
Successful grant recipients have to meet requirements for up to 10 years, so it's important to have a plan for meeting these requirements.
Understand the areas without good internet, competition, pricing, and opportunities in your area.
These steps can help to build a complete and compliant application for broadband grant funding.
Additional Resources
FCC Broadband Map – Federal Communications Commission
Michigan High-Speed Internet Office
Michigan's Digital Equity Plan
Michigan's BEAD Five-Year Plan
Internet access is essential in today's world. This project shows Allegan County is dedicated to bringing best-in-class connectivity to its residents. We are honored to be stewards of the county's investment in broadband. This new open-access network will use public land and funding to benefit the community. Allegan County has been a front-runner in optimizing broadband funding to connect the underserved parts of the community entirely.
Chuck Irvin
Executive Vice President of 123NET