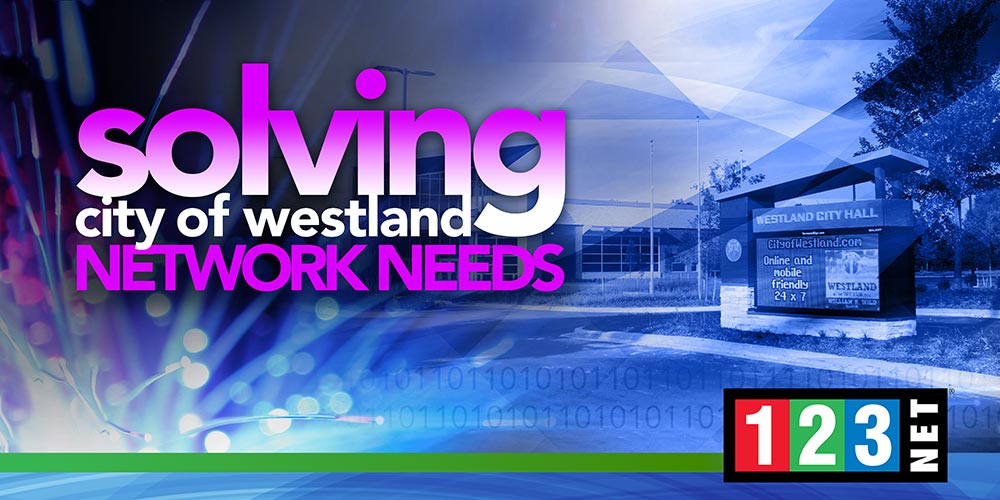 SOUTHFIELD, Mich., September 18, 2018 – The City of Westland recently opened the door to any Internet service providers (ISPs) interested in submitting a proposal to solve the City's Wide Area Network (WAN) needs. Proposals included technologies that were able to connect the City's 14 municipal buildings, including City Hall, Police and Fire buildings, and the William P. Faust Public Library. Craig Brown, Interim Chief Innovation Officer: Department of Innovation and Technology, recommended 123NET to the purchaser.
"We were open to any technologies. We wanted to allow providers to get creative with their solutions and offer the best of what they were able to specialize in," Brown said of the process.
123NET offered dark fiber, an option that allows the City to control their own network and scale at their own pace. "123NET's proposal was very competitive," Brown commented. "They were able to offer what is considered the best network technology, dark fiber, with additional redundancy in their fixed wireless, without extra costs and upgrades for future scalability. Their proposal was really able to focus on the big picture, for us going forward."
The City is also looking into colocating in 123NET's Southfield data center and creating a disaster recovery plan through their new ISP, completing the "big picture" of their network needs. Westland is one of almost two dozen municipalities benefiting from 123NET's competitively priced, diverse end-to-end solutions.
About 123NET
123NET is a Michigan-based Internet service provider focused on equipping businesses with industry-leading data center, voice, fiber, fixed wireless and other network services. Home of the Detroit Internet Exchange, 123NET maintains the largest carrier hotel and peers with technology leaders such as Google, AWS and others.
About the City of Westland
The City of Westland is located in Southeast Michigan, about 40 minutes west of Detroit. The City is home to over 80,000 residents and numerous parks and recreation centers, including the Mike Mondano Ice Arena, Concrete Jungle Skate Park, and the Westland Golf Course.