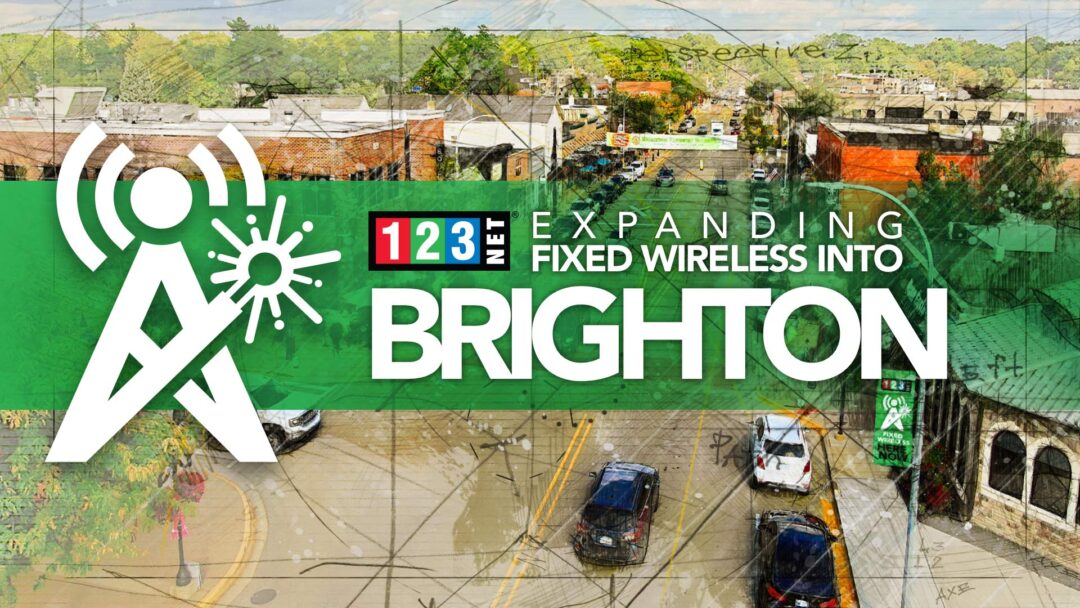 SOUTHFIELD, MI., Thursday, March 19, 2020 – 123.Net Inc. (123NET) is expanding network coverage with a new fixed wireless Point of Presence (PoP) site in Brighton. Area businesses can benefit from network connectivity at gigabit speed. The fixed wireless platform provides diverse transport options, backed by a Service Level Agreement (SLA), setting it apart from best-effort phone and cable companies.
Fixed wireless provides a high-speed carrier-grade symmetrical connection, capable of supporting Dedicated Internet Access (DIA), SD-WAN, Voice, and Multi-Protocol Label Switching (MPLS) within 7 to 14 days.
"Building a network to connect underserved communities and businesses has always been a passion of mine. Furthermore, demonstrating that critical network communication can be delivered with a fixed wireless product is particularly rewarding because we can turn up the service so quickly."

Justin Lampman, 123NET Network Operations Director
123NET continues expanding its network of 1500+ fiber-lit buildings and 55+ Fixed Wireless PoP sites with the latest, most reliable, and secure technologies. 123NET's network also includes 4,000+ route miles of proprietary fiber, four Tier 3 data centers and is home to the Detroit Internet Exchange (DET-iX).
Impact on Local Businesses and Communities
The expansion of fixed wireless coverage to Brighton is a testament to 123NET's commitment to bringing high-speed, reliable internet access to more communities and businesses. With the implementation of this new Point of Presence (PoP) site, local businesses can expect an improvement in their day-to-day operations, from faster data transfers to smoother video conferencing. Additionally, this expansion can stimulate local economic growth by attracting new businesses that require robust and reliable internet connectivity. Moreover, the enhanced connectivity can empower local schools, hospitals, and government offices, thereby improving the delivery of essential services to the residents of Brighton.
Advancing Towards a Connected Future
The Brighton expansion is another significant step in 123NET's mission to bridge the digital divide and ensure every community has access to high-quality internet. As 123NET continues to grow its network and enhance its services, it remains at the forefront of the telecommunications industry, constantly innovating to meet the evolving needs of its clients. As the world becomes more interconnected, 123NET's commitment to expanding network coverage ensures that no community is left behind in the digital revolution. Its continuous efforts underline the belief that everyone deserves access to high-speed, reliable internet connectivity regardless of location.
"123NET is not just about providing high-speed internet," says Jon Eyerman, Vice President of Sales Operations. "It's about creating opportunities, fostering innovation, and empowering communities. Our expansion into Brighton is another stride towards our commitment to connecting every corner of Michigan. We're excited about the possibilities this brings to the businesses and residents of Brighton and look forward to continuing our journey towards a fully connected future."