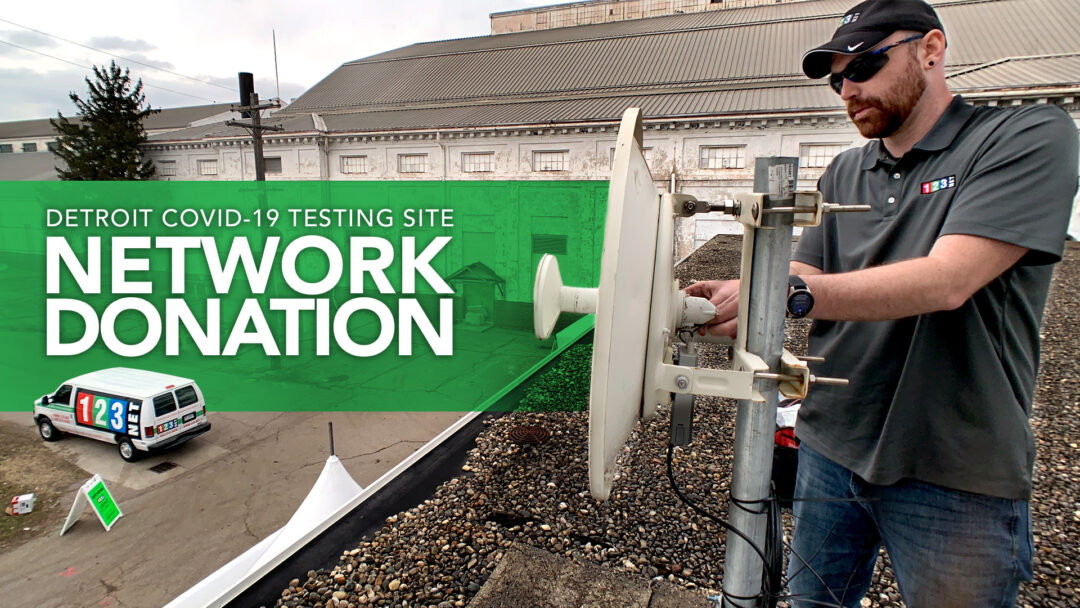 SOUTHFIELD, MI., Monday, March 30, 2020 – The City of Detroit began a drive-thru coronavirus (COVID-19) testing site at the Michigan State Fairgrounds on Friday, March 26, 2020. Prior to arrival at the site, a doctor must prescribe you be tested and schedule you an appointment between 9:00 a.m. and 7:00 p.m. any day of the week. They can call 313-230-0505.
The State Fairgrounds' site can administer an estimated 400 tests a day over the next six weeks at an average 50 cars an hour while providing results five days later. This testing site is the result of a partnership between Detroit Medical Center, Henry Ford Health System, Trinity Health Systems, Macomb County, Oakland County, Wayne County, and the City of Detroit. In response to the community's need, 123NET is aiding in this partnership with a donation of 50 Mbps of high-speed carrier-grade symmetrical fixed wireless internet to the testing site for collecting, inputting, and processing medical data.
123NET is proud to be helping out local communities during these current conditions.
"We want to enable our communities to achieve their goals without worrying about reliable connectivity. I feel proud that our leadership is committed to the community and has stepped up to help Metro Detroit and Southeastern Michigan."

Heather Garey, 123NET Agent Manager
"If there is any other way we can enlist our network, resources, or expertise to assist in the community fight against COVID-19, please reach out as we're looking to help."

Chuck Irvin, 123NET Director of Sales & Network Development
For more information on the COVID-19 test site:
123NET remains dedicated to expanding its existing network of 1500+ fiber lit buildings and 55+ Fixed Wireless PoP sites with the latest, most reliable, and secure technologies available. 123NET's network also includes 4,000+ route miles of proprietary fiber, four Tier 3 data centers, and is home to the Detroit Internet Exchange (DET-iX).
OUR MISSION: BUILDING NETWORK, TO MAKE MICHIGAN COMMUNITIES & BUSINESSES THE BEST CONNECTED ON THE PLANET.