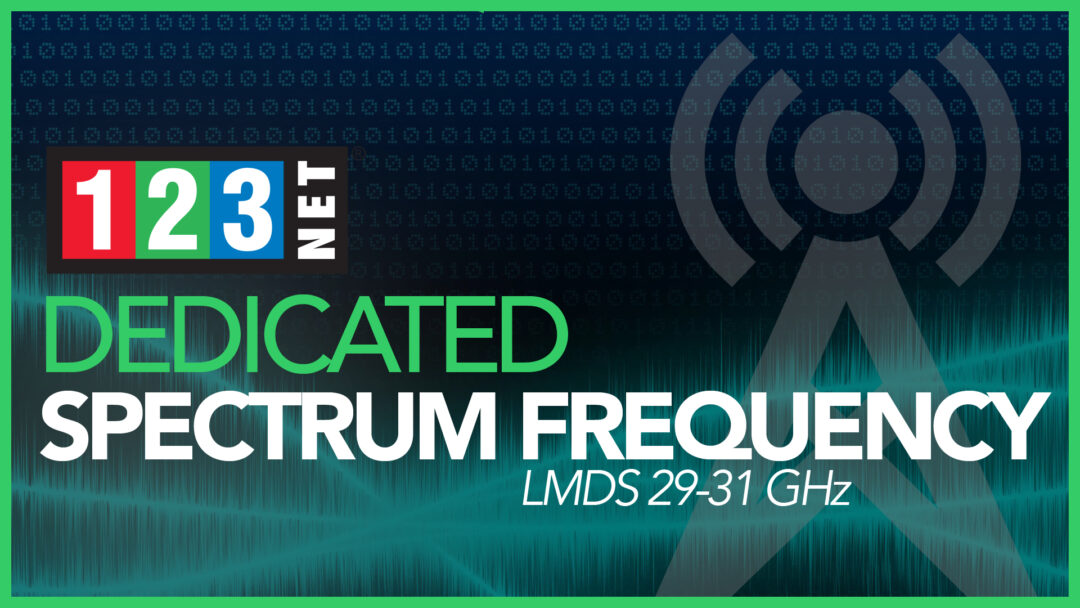 Southfield, MI, November 4, 2022 – 123NET, best known as a premier internet, colocation, and voice services provider in Michigan, has purchased dedicated spectrum frequencies (LMDS 29-31 GHz) from GeoLinks, a California hybrid network provider in the fixed wireless space, to expand its leading wireless internet service offering significantly. 
The FCC controls the frequencies, or spectrum, used to transmit data through the airwaves. This spectrum is occasionally made available to internet service providers to deliver connectivity. 123NET's spectrum acquisition will protect its clients' wireless transmissions in an exclusive frequency, therefore free from interference or delay. The spectrum will deliver superior performance and allow 123NET to service a broader array of customers across Michigan.
"Having dedicated spectrum will usher in a new chapter for our wireless services," said Justin Lampman, 123NET's Director of Network Operations. "Spectrum is extremely difficult to obtain. Now that we have it, the competitive advantage we gain will benefit our customers immediately and in the years to come."
Lampman said 123NET Wireless Services are an ideal solution for customers looking for:
Quick installation: In virtually all cases, it's much quicker and more affordable to set up a customer on wireless versus a wireline solution. Implementation takes days, not weeks or months.
Difficult or hard-to-reach locations: Wireless is free from the limitations of land-based communication, making it ideal for metro customers in dense urban environments across a highway, railroad, or river.
Security: Data is secure; 123NET's Wireless Technology uses AES or equivalent encryption.
Redundancy: Wireless customers don't have to worry about downtime caused by a cut cable. Wireless is often used with fiber to add redundancy to organizations that cannot afford to have data interruptions.
GeoLinks, the largest holder of LMDS Spectrum in the U.S., had originally purchased this spectrum from Verizon as part of a significant package that helped Geolink's national expansion.
"We are excited to select 123NET as the first recipient of our highly-valuable spectrum through the sale of our Detroit licenses," stated GeoLinks Co-Founder and CEO Skyler Ditchfield. "Like us, 123NET is a provider that utilizes fixed wireless in highly competitive dense metro markets. This acquisition will give them a massive leg up on the wireless and fiber competition by enabling rapid deployment and delivery of multi-gigabit services. We look forward to seeing their business further excel as they demonstrate fixed wireless capabilities in dense urban environments."
Major telecom companies have spent billions of dollars to secure spectrum for their 5G rollouts, highlighting the value of the proprietary frequencies. Although it's unusual for regional companies like 123NET to add spectrum, the performance jump is so dramatic that it decided to make a substantial investment to attract and retain clients. 
"123NET is dedicated to building network to make Michigan communities and businesses the best connected on the planet," said Chuck Irvin, Vice President of 123NET. "To accomplish that goal requires near constant investment in our network, so the opportunity to buy spectrum was simply too good to pass. We think it will be a game-changer."
For more information on 123NET Fixed Wireless, please visit here or WWW.123.NET.
About 123NET
123NET is a Michigan business, privately owned and managed by highly successful network engineers focused on the telecom industry. 123NET operates four data center facilities, one in Grand Rapids and three in Southfield, offering over 100,000 square feet of colocation space. Headquartered in Southfield, 123NET has successfully provided network, voice, and data center services to enterprises, carriers, ISPs, and technology companies for over 25 years. With over 4,500 route miles of fiber, 55+ Fixed Wireless Points of Presence, and 92 nodes across the state, 123NET is building network to make Michigan communities and businesses the best connected on the planet.  
About GeoLinks
GeoLinks is an enterprise-level telecommunications company and Competitive Local Exchange Carrier (CLEC) with one of the largest fixed wireless networks in the United States. Headquartered in Southern California and ranked on Inc. Magazine's Inc. 5000 Fastest Growing Companies in America several years running, GeoLinks delivers high-speed broadband, Digital Voice, SD-WAN, Cloud On-ramping, Layer 2 Transport, and both Public and Private Turnkey Network Construction expertly tailored for businesses and Anchor Institutions nationwide. More information on GeoLinks can be found here.