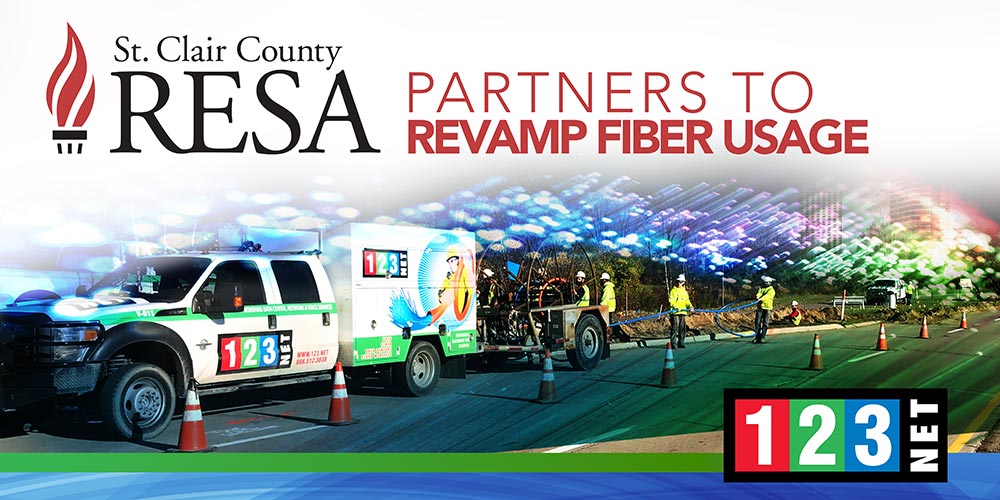 SOUTHFIELD, Mich., October 02, 2018 – Starting an essential change in how their fiber network will be utilized, St. Clair County Regional Educational Service Agency (St. Clair County RESA) is partnering with 123NET, a premier provider of data center, network, and voice services for Michigan businesses. RESA's fiber network that brings high-speed internet access to schools, public libraries, and municipalities throughout St. Clair County will be improved and expanded, while 123NET will gain access to the County to serve the community's businesses.
St. Clair County RESA created their fiber network, stretching about 200 miles throughout the county, more than 20 years ago. Through this new partnership, RESA will gain a larger fiber network, and significantly reduced cost for internet service. RESA also gains access to the largest, privately owned, carrier neutral data center in Southeast Michigan and the Detroit Internet Exchange (DET-IX), one of the largest peering hubs globally. 123NET, in turn, will be able to expand into St. Clair County and offer more competitive connections to private St. Clair County businesses and industries. These businesses will be able to peer with any of the participants of DET-IX. 123NET is in the process of building two 10 Gbps virtual pipes between their Southfield data center and the RESA, providing an added layer of redundancy to the county's connectivity.
Dennis Buckmaster, RESA's Director of Information Technology, is optimistic about the future of this partnership. "Much of our area is significantly underserved, and bringing more providers to the area will only help our community," Buckmaster said. "This partnership with 123NET will help to close that gap for our county and our businesses. I see this partnership continuing to grow in the future." 123NET expects to finish the construction of a new internet backbone along the St. Clair River sometime this year. Given its location across from Canada, this expanded network will host multiple ports ideal for international trade.
Businesses in the area expecting to benefit from the partnership include automotive parts manufacturers, agricultural centers, power plants, and Michigan's salt-mining industry, among others. This initiative will also provide a roadmap for other counties to follow to create a similar structure and capitalize on opportunities for their communities.
"It's exciting when we're able to partner with groups like St. Clair County RESA," said Chuck Irvin, Director of Network Development at 123NET. "We're dedicated to providing Michigan businesses with the best service possible, so it's really a win-win for everyone involved when businesses get the connections they need, the RESA is able to grow and upgrade inexpensively, and we get to expand our footprint to another community that we can serve. We're looking forward to this inspiring other communities to leverage our solutions and partner with us in similar ways."
About 123NET
123NET is a Michigan-based Internet service provider focused on equipping businesses with industry-leading data center, voice, fiber, fixed wireless and other network services. Home of the Detroit Internet Exchange, 123NET maintains the largest carrier hotel and peers with technology leaders such as Google, AWS and others. For more information, please visit our current news section here.
About Det-IX
The Detroit Internet Exchange (DET-IX) is a not-for-profit Regional Internet Exchange Point (IXP) with a switching fabric expanding throughout Southfield, Michigan. Membership and ports are free. The collaboration of carriers, ISP's, Content Providers, and Enterprise Businesses connected to DET-IX allows for traffic to be exchanged freely, rather than paying to make the connection. This not only reduces the cost of exchanging traffic but provides a localization of traffic for the 4.5 million inhabitants of the Detroit metro area.
About St. Clair County RESA
St. Clair County Regional Educational Service Agency supports St. Clair County's seven K-12 public school districts including middle size city, suburban, and rural school settings.