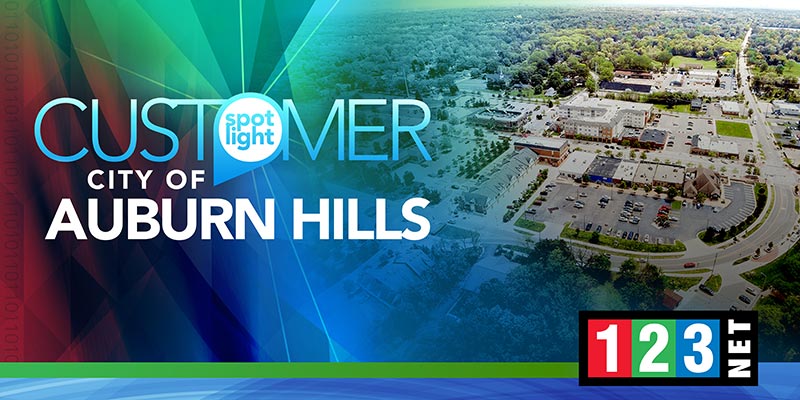 At a Glance
A Michigan municipality utilizes 123NET's cost-effective services to support residents.
Customer
City of Auburn Hills
Industry
Municipal
Opportunity
The City of Auburn Hills needed a cost-effective, local company to support daily operations.
Solution
With 123NET, the City of Auburn Hills was able to receive better services using a Fiber PRI, rather than copper, for less than what they were already paying. Receiving higher service levels meant the Information Technology Department could devote their time to more mission-critical tasks than maintaining the network. The City of Auburn Hills's vision is to have "the heart of a small town that operates with the excellence of a world-class city," and when seeking out a local ISP, the City found that 123NET had a similar vision in providing the care, service, and support of a small business with the robust infrastructure of national carriers. This level of support and service again allowed the City to focus its efforts where they were needed.
Caleb Purdy, Network Engineer for Auburn Hills, recalls the phone transition being pain-free, "During the phone switch-over with dispatch, everything went smoothly and was switched in tandem. After they moved one, they tested and verified it, then moved the other. It was very thorough.
The Challenge
The City of Auburn Hills needed a cost-effective internet service provider (ISP) to maintain the 911 dispatch phone system, Cable Channel 17, and provide essential services to residents. They wanted to cut costs while providing outstanding services on a reliable network.
Results
With the new network, the Information Technology Department at the City of Auburn Hills can devote their time to live-streaming City Council meetings and Cable Channel 17, maintaining cloud backups and applications, and improving City communication internally and externally. Caleb was impressed with the customer portal, "It's easy to submit a ticket in under a minute without needing to call. It's more efficient and let's me focus on the tasks that need my attention.
Partnership
"The Network Operations Center is knowledgeable and friendly and always puts customers first. I've recommended 123NET to other municipalities and businesses for their excellent support and reliability," Caleb commented."
Services Provided
VoIP, PRI, Ethernet Over Fiber