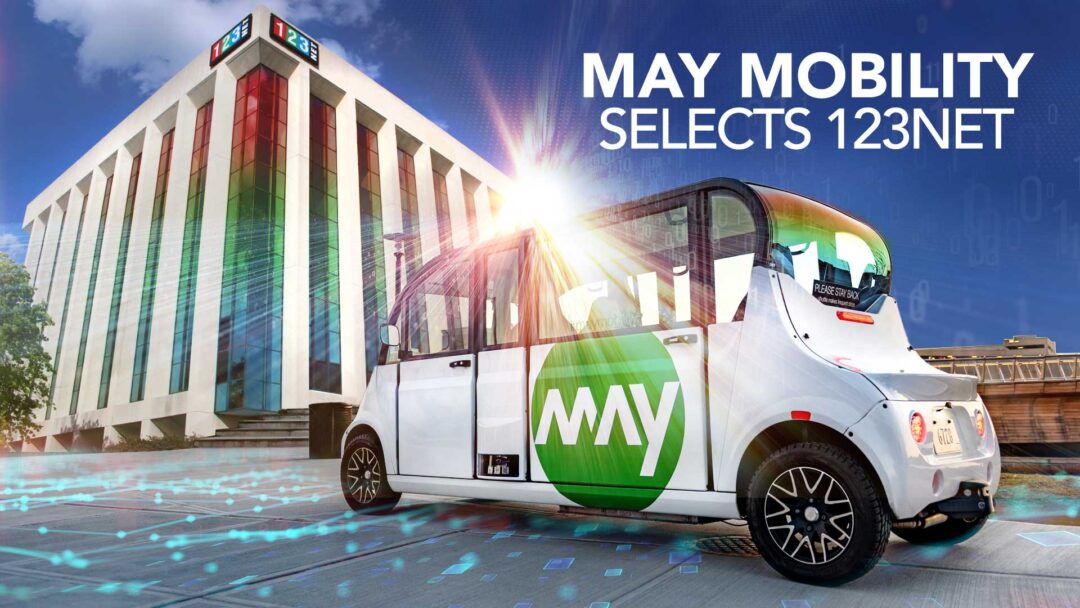 Southfield, MI – April 6, 2021 – 123.Net Inc. (123NET), Michigan's best-connected colocation and fiber network provider, has been selected by Ann Arbor based May Mobility, an autonomous mobility company, to provide data center and connectivity services.
Founded in 2017, May Mobility develops autonomous vehicle systems and operates cutting-edge autonomous shuttles with self-driving technology primarily for use in urban environments. It currently operates shuttles in the U.S. and Japan and has completed more than 270,000 passenger rides.
"May Mobility has network and data needs similar to any high-tech engineering company," said Ryan Duda, 123NET's chief technology officer. "123NET's deep experience serving automotive companies, including major OEMs and suppliers, made our company an obvious choice for them."
"May Mobility is pioneering autonomous tech in both lab and real-world settings, an endeavor that puts an absolute premium on connectivity, capability and reliability. 123NET is proud to support May Mobility as it continues to develop the future of autonomous vehicles."

Ryan Duda,123NET Chief Technology Officer
Traditionally, enterprise networks are built over an extended time with a blend of both conventional and modernized systems. As a rapidly growing start-up in the high-tech sector, May Mobility had the unique task of designing a highly scalable, complex enterprise network from scratch and on a tight timetable. To put the amount of data in perspective, each shuttle is generating more data in one hour than the average US household uses in a month. May Mobility has seen a 400% increase in data generated per hour compared to a year ago, with that figure expected to grow as the company incorporates new technologies into its stack to collect insights for autonomy and municipalities.
"At May Mobility, our manufacturing and fleet operations are dependent on moving and processing petabytes of data, backed by extremely high-speed, reliable connectivity," said Daniel Marks, May Mobility's network team lead on the project. "We're working with 123NET to help meet this challenge as we continue to deploy our autonomous vehicles in more cities around the country. Our ultimate goal is to leverage this technology to help in creating a safer, greener, more accessible world."
123NET's 'Connectivity Hub' Network strategy is proving to be a differentiator with software, engineering, and manufacturing companies like May Mobility. 123NET leverages its highly developed network of interconnections and peering relationships to create a 'future-proof' system capable of meeting ever-changing industry needs. The Connectivity Hub is further backed by 123NET's close affiliation with the Detroit Internet Exchange (DET-iX), a carrier-neutral exchange housed within 123NET's headquarters that connects with more than 40 global carriers including many of the world's best known and highest trafficked networks.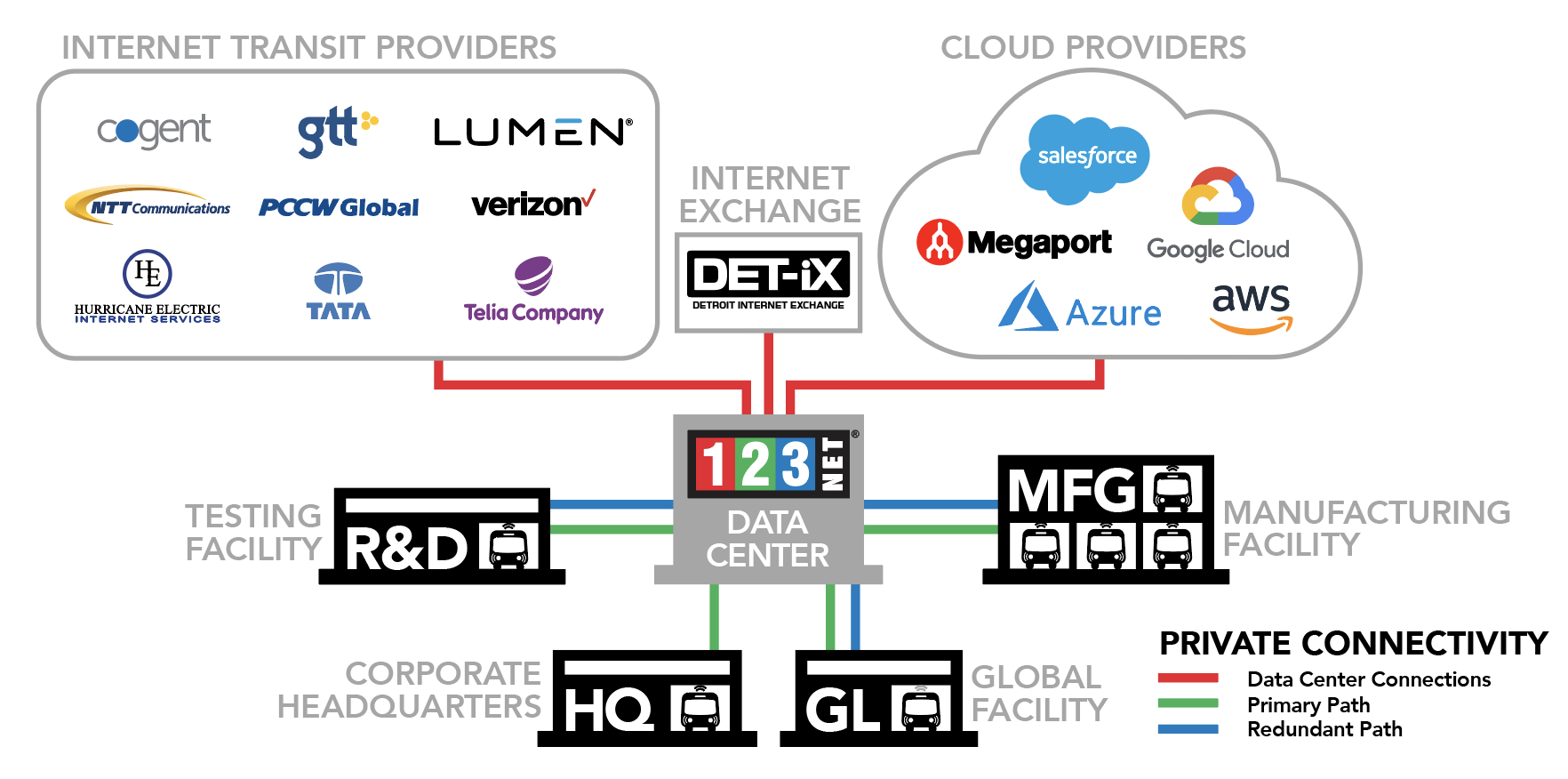 "The connected and autonomous vehicle sector recognizes that one of its greatest challenges is exchanging and housing massive amounts of data gathered through an increasingly connected world," said Noah Lessaris, Strategic Accounts at 123NET. "A core tenet of 123NET's strategy is to provide a technological backbone for Michigan businesses, so we're pleased to work with May Mobility and apply our Connectivity Hub strategy on behalf of this forward-thinking, next-generation and socially-responsible mobility company."
As part of this agreement, May Mobility also benefits from 123NET's local infrastructure and 24/7/365 hands-on network operations center professionals.
ABOUT MAY MOBILITY
May Mobility is a leader in autonomous vehicle technology development and deployment. With more than 270,000 autonomous rides to date, May Mobility is committed to delivering safe, efficient, and sustainable shuttle solutions designed to complement today's public transportation options. The company's ultimate goal is to realize a world where self-driving systems make transportation more accessible and reliable, the roads safer, and encourage better land use in order to foster more green, vibrant, and livable spaces. For more information, visit maymobility.com.
ABOUT 123NET
123NET is a Michigan-based Internet Service Provider (ISP) focused on equipping businesses with an industry-leading data center, network and voice services. Over a dozen Fortune 500 companies and thousands of Michigan businesses trust 123NET to provide them with world-class connectivity. Home of the Detroit Internet Exchange (DET-iX), 123NET operates one of the largest carrier-neutral data centers and peers with technology leaders such as Google, AWS, GM and others.
OUR MISSION:
BUILDING NETWORK TO MAKE MICHIGAN COMMUNITIES AND BUSINESSES THE BEST CONNECTED ON THE PLANET.