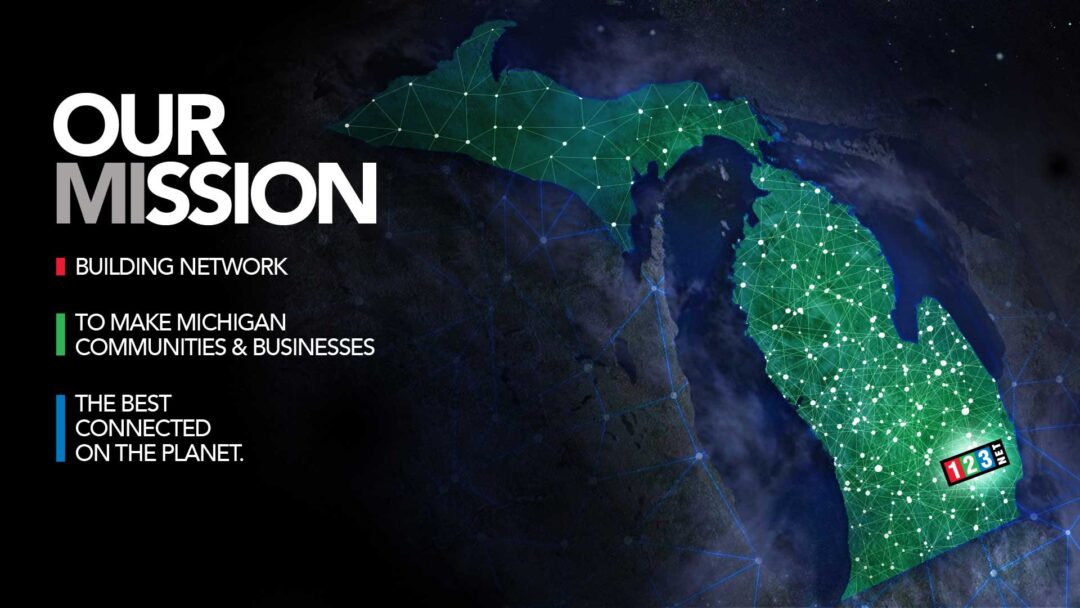 Southfield, Michigan, December 20, 2016 – Despite intense competition, Southfield-based 123.Net, Inc. (123NET), a premier fixed wireless,fiber and technical solutions partner for Michigan business customers, reported another banner year in 2016 with increased revenue and customer and employee growth backed by significant developments across its primary product lines, setting the stage for continued growth into the coming year.
The key highlight of 2016 was the opening of 123NET's advanced 20,000 sqft data center at its headquarters facility. The center uses sophisticated, ultra efficient technologies to optimize its network, power, security and cooling capabilities. Customers have responded enthusiastically and data center occupancy is ahead of schedule with participation from multiple Fortune 500 clients, including a couple in the top ten.
"The response to the data center has been solid from companies with complex requirements that need to be seamlessly managed," said Dan Irvin, 123NET CEO. "In fact, we're so encouraged by the early response that we've already begun working on Phase II of what will ultimately become a 100,000 sqft 20 MVA data center project."
According to Irvin, it's equally important, although perhaps less exciting, to note that all 123NET data centers earned SOC II compliance during 2016. The rigorous, third-party audit ensures that the 123NET data centers strictly adhere to industry best practice and policies. The data center also boasts of 2(N+1) redundancy across all core systems and offers an Emergency Operations Center for clients.
"Our data center is directly connected to the Detroit Internet Exchange (DET-IX) that we launched in 2015 as the region's foremost peering exchange," said Irvin. "DET-IX includes major accounts like Netflix, Google and Hurricane Electric and helps bring faster speeds, more bandwidth and lower costs for our clients and service providers across the state."
123NET's network investment continued beyond its corporate walls. The Company went from a single fiber expansion crew to several crews by year end. With each crew laying miles of fiber, 123NET's 3,000+ route miles of proprietary fiber continues to expand allowing more Michigan businesses to easily and affordably connect fiber directly to their cabinets.
The Company's wireless network was enhanced during the year with the Cambridge Broadband Network (CBNL) VectorStar agreement that provides123NET customers carrier grade service on a performance-guaranteed network. The Company grew its downtown Detroit wireless network to five sites when it added a new tower atop the historic Maccabees Building in Midtown and also benefited from new PoP sites adjacent to industrial parks in Farmington Hills and Shelby Township.
Irvin, who in December was named to Crain's Detroit Business "Top Names to Know in IT," said he was particularly pleased that the firm was again included in Metropolitan Detroit's 101 Best and Brightest Companies to Work For" by the Michigan Business & Professional Association. "The most important aspect of the Best and Brightest program as far as we're concerned is that the award is given only after extensive interviews with our employees. At 123NET everything we do is backed by real people – Michiganders who are committed to customer first service and we're delighted that they consider working for 123NET to be a positive experience."
To meet growing demand for its products, 123NET added over 30 employees in 2016 and is expecting similar growth in 2017. "We've hit important milestones in 2016 across our product platforms. These technological investments, backed by investments we make to bring in new team members who fit our culture of customer service and accountability, have us poised to continue on our current trend of delighting current customers and earning new ones. If we do that, 2017 could be an even better year."