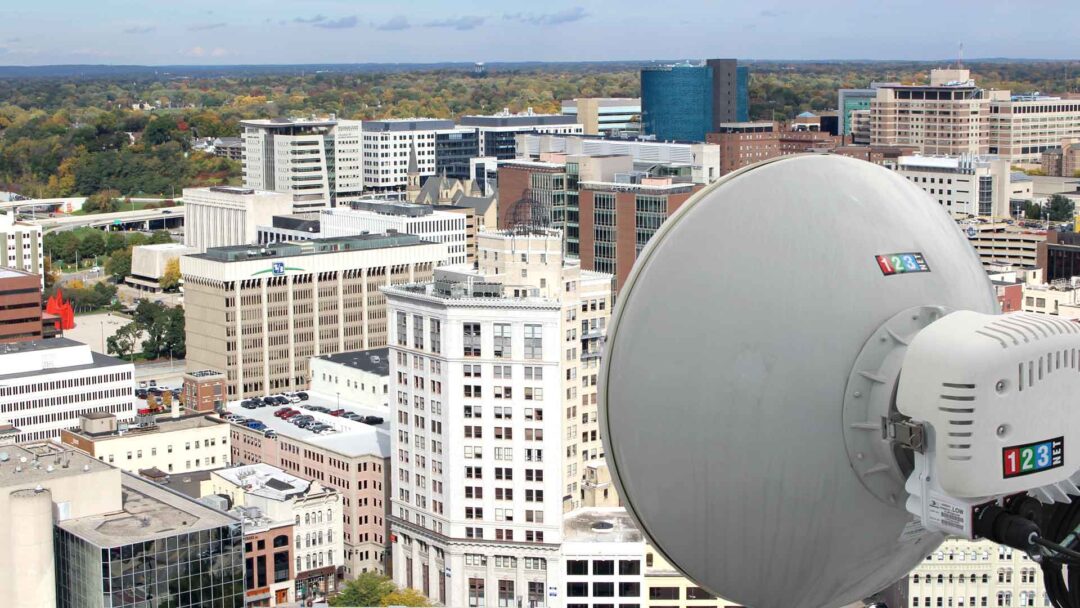 As part of its continuing network investment in its wireless technology, 123NET has added a new wireless Point-of-Presence (PoP) site atop the historic Maccabees Building at 5057 Woodward Ave in Midtown Detroit. The building is currently owned and operated by Wayne State University.
This is 123NET's fifth PoP location in Detroit, including sites at the Renaissance Center, Fisher Building, and David Stott Building enabling 123NET to deliver up to 2Gbps speeds to any location in the Downtown, Midtown and New Center Areas. This wireless footprint further establishes 123NET as the clear market leader with an unrivaled ability to meet the growing technical demands of an increasingly vibrant Detroit business community.
Jim Hart, Director of Wireless Operations, at 123NET commented, "Data speed and security has become a critical concern for global businesses. 123NET's Detroit customers benefit from our best-in-class wireless offering and are able to turn that concern into their competitive advantage.
"As a Michigan-based and Michigan-only provider, we are thrilled to be part of Detroit's economic comeback by providing the highest quality dedicated internet solutions to Downtown and Midtown organizations. By delivering limitless bandwidth and agile, rapidly deployable services, we are committed to offering local companies the resources necessary to create and sustain a world-class business climate."
123NET's carrier-grade high-speed fixed wireless service offers speeds up from 3Mbps to 2Gbps (up to 10Gbps with fiber connection) for both uploads and downloads on secure links. This is an important added asset to Detroit businesses that may have suffered from slow speeds or unreliable connections. 123NET's fixed wireless installation time is among the quickest in the industry, with some circuits taking less than a half day to complete.
The Albert Kahn-designed art deco and Romanesque Maccabees Building is on the national registry of historic places and has a history of housing sophisticated technology – Detroit Public Television continues to maintain a studio there. Another noteworthy tenant was Detroit's WXYZ radio and television station which had its offices and broadcast facilities in the Maccabees Building prior to 1959. During that period, the nationally broadcast and wildly popular radio programs "The Lone Ranger" and "Green Hornet" were broadcast from the Maccabees Building to listeners throughout North America.
"For us, it's an honor to partner with the Maccabees Building and become its latest generation of technology leaders," said Hart. "We're equally excited to work with Wayne State University and be able to offer our services to its related facilities and businesses."
123NET built and owns its entire wireless network and now has 55 towers located strategically throughout Michigan and expects another to bring new wireless sites on-line in the next 12 months. 123NET supports its wireless network with 3,000 route miles of proprietary fiber.