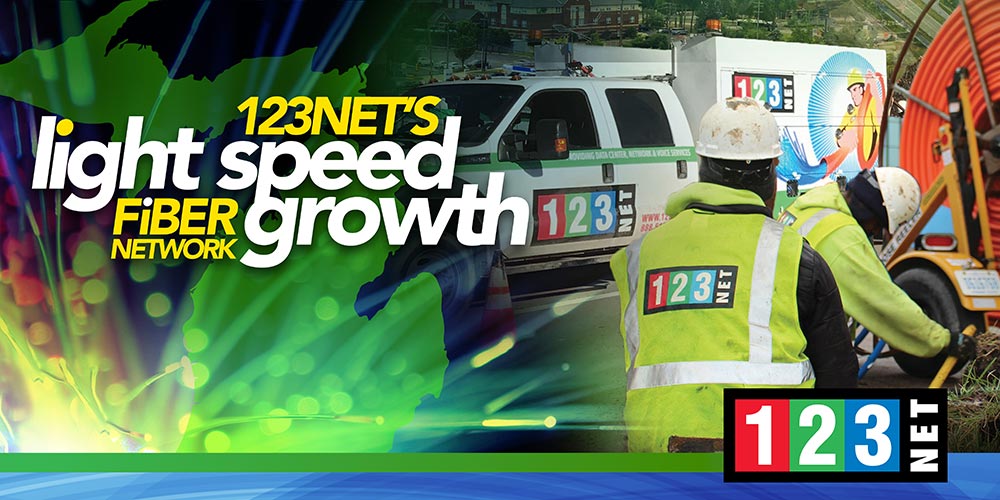 SOUTHFIELD, Mich., December 18, 2018 – 123,Net, Inc. (123NET) is becoming the fastest growing business-exclusive Fiber Network in Michigan. Businesses requiring high capacity internet to keep up with their customer demands are taking advantage of 123NET's fiber footprint. Currently, their expansions are focusing on Dearborn, Ferndale, Warren, Oak Park, Auburn Hills, Troy, Novi, Wixom, and Milford. See how your business can benefit from 123NET's dedicated business fiber internet here.
Since June, 123NET's On-Net list has grown to 760 buildings. "On-Net" refers to the buildings that already have at least one tenant utilizing a specific provider's fiber. Similarly, "Near-Net" buildings, close to the fiber network but not currently on it, provide reduced installation times and build-out costs as well. With 123NET, Fiber-Lit buildings also offer competition and the ability to buy from multiple carriers, as their fiber network connects to the largest, private carrier neutral data center in Michigan. This can mean even more savings for customers as they are able to choose the carrier that best suits their individual needs. By committing to lighting over 1,000 buildings by the end of the next two years, 123NET is earnestly working to add buildings to both the On-Net and Near-Net lists through extensive fiber growth.
"As speed and reliability become more and more critical to today's businesses, dedicated internet access is key to achieving company performance metrics," says Heather Garey, Senior Account Executive at 123NET. "By utilizing an On-Net Fiber provider, not only will you see dramatic cost savings, but a much faster installation time, allowing pivotal project time frames to be met without any unexpected delays," she added. Recently, Garey was able to cut a new customer's turn up time in half with a fiber circuit since their building was already On-Net.
Chuck Irvin, Director of Network Development, says that 123NET has been turning up an average of 3-4 new customers a day, culminating in 84 new circuits over the last two months. Many of these customers are Fortune 500 companies, automotive OEMs, and mobility-focused suppliers, including all three auto manufacturers.
Check if your building is On-Net or Near-Net, visit our network service availability map.