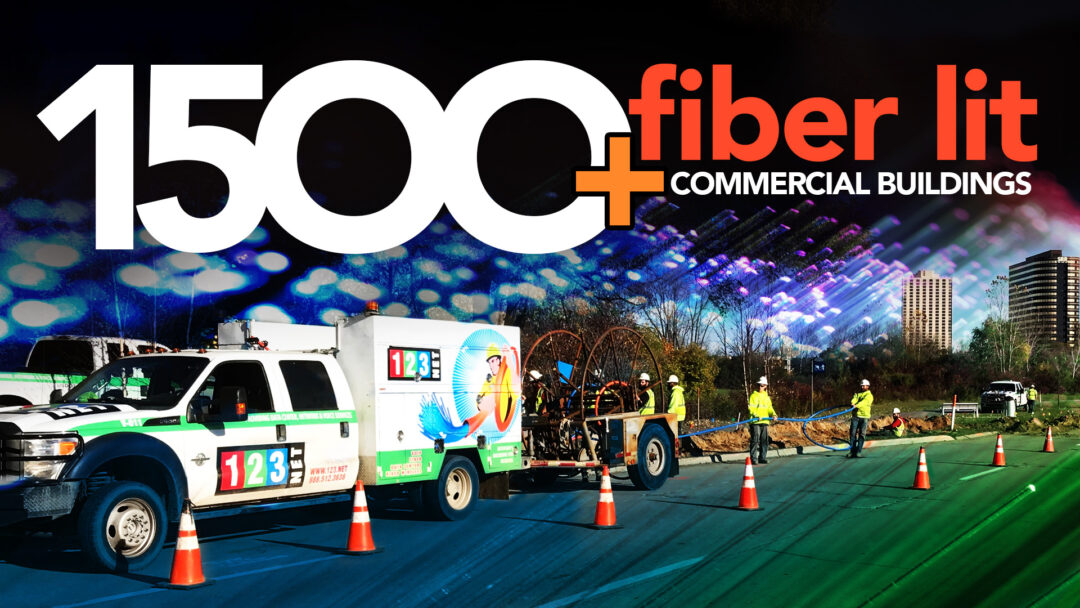 DETROIT, MI., May 14, 2020 – Early this week, 123NET, Inc. (123NET) marked a milestone by installing high-speed fiber into more than 1,500 commercial buildings. This achievement comes less than one year after the company announced that it had hit the 1000 lit commercial building milestone back in 2019.
"The fiber team here at 123NET has grown substantially over the years and now includes over 100 team members. Each and every one of them has helped us achieve this awesome milestone. We couldn't be happier to be able to extend our fiber network into 1,500 buildings."

Chuck Irvin,123NET Director of Network Development
Currently, 123NET has nine in-house fiber crews. They work diligently building fiber infrastructure throughout Michigan, along with in-house permitting and fiber design departments, which all contribute to the completion of fiber projects. Irvin is already looking to the future for the company's next breakthrough benchmark. "Milestones are great to celebrate, but we won't revel in it for too long," Irvin said. "We are already looking forward to the day we reach 2,000 lit buildings!"
123NET's network spans across the state of Michigan connecting local communities and businesses alike with fiber engineered to be symmetrical, dedicated and scalable to fit all company bandwidth needs. The company continues to focus on providing businesses high-speed, reliable network connectivity as it builds toward its next goal.
ABOUT 123NET
123NET is a Michigan-based Internet Service Provider (ISP) focused on equipping businesses with an industry-leading data center, network and voice services. Over a dozen Fortune 500 companies and thousands of Michigan businesses trust 123NET to provide them with world-class connectivity. Home of the Detroit Internet Exchange (DET-iX), 123NET operates one of the largest carrier-neutral data centers and peers with technology leaders such as Google, AWS, GM and others.
OUR MISSION:
BUILDING NETWORK TO MAKE MICHIGAN COMMUNITIES AND BUSINESS THE BEST CONNECTED ON THE PLANET.