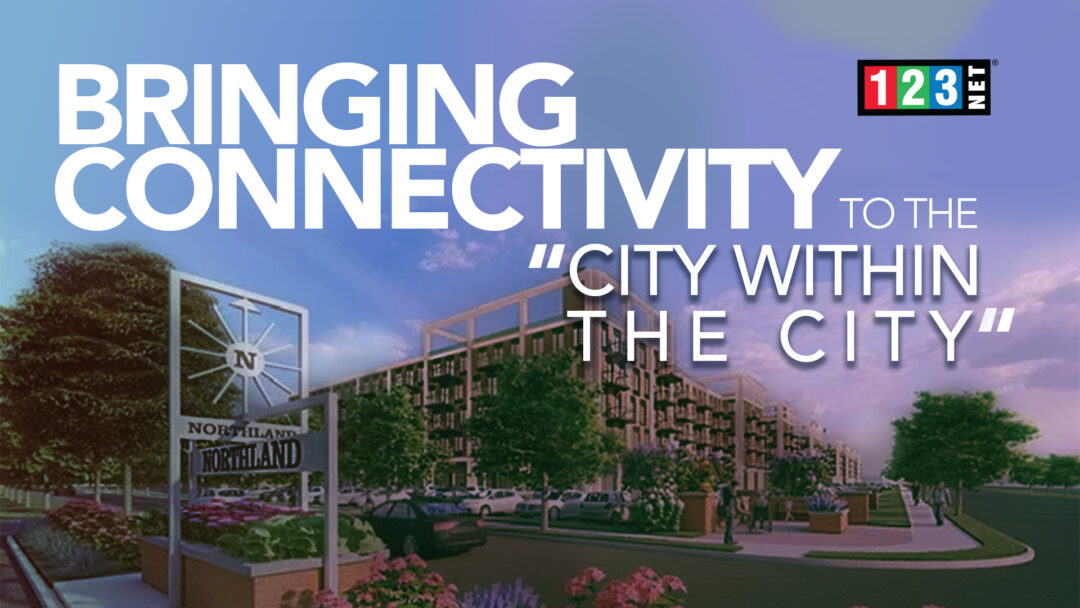 Southfield, MI, August 11, 2022 – 123NET, best known as a premier fiber internet, colocation, and voice services provider in Michigan, continues its residential internet service rollout via a new partnership with Contour Construction to bring 10 Gbps Home Fiber Internet to its Northland City Center development in Southfield.
Originally built in 1954, the historic Northland Shopping Center was the first mall of its kind in the United States, although it more recently fell into a state of disrepair. Contour Companies is leading its redevelopment into the Northland City Center which will transform the space into more than 1,200 apartment units and 95,000 sq ft of commercial space spread over 14 buildings. The plan calls for the development to have a community park and its own Southfield police station.
"Our development plan seeks to blend Northland's proud history with the modern features and services that we know the community values," said David Dedvukaj, Chief Executive Officer, of Contour Companies. "This goal requires, the best possible internet capabilities. That's why we selected 123NET, a Michigan-based internet provider, to connect all 14 buildings with incredibly fast and reliable 10 Gbps fiber internet."
Contour Companies $402M reimagining of the 100-acre parcel is already under construction and accepting lease applications. Fiber internet will be available along with other amenities such as fitness clubs, hospitality and restaurant venues, a rooftop pool, convenient parking and a walkable community area.
"123NET is a proud Michigan company headquartered in Southfield," said Chuck Irvin, Vice President of 123NET. "We believe being local to Michigan translates into consistently better, faster, more thorough service for our customers versus the national telephone companies and cable providers. It is important for us to have our services incorporated into this phenomenal new development that will be a game-changer in our hometown."
Those interested in learning more about 123NET's Internet as an Amenity solutions, visit https://www.123.net/internet-as-an-amenity/.