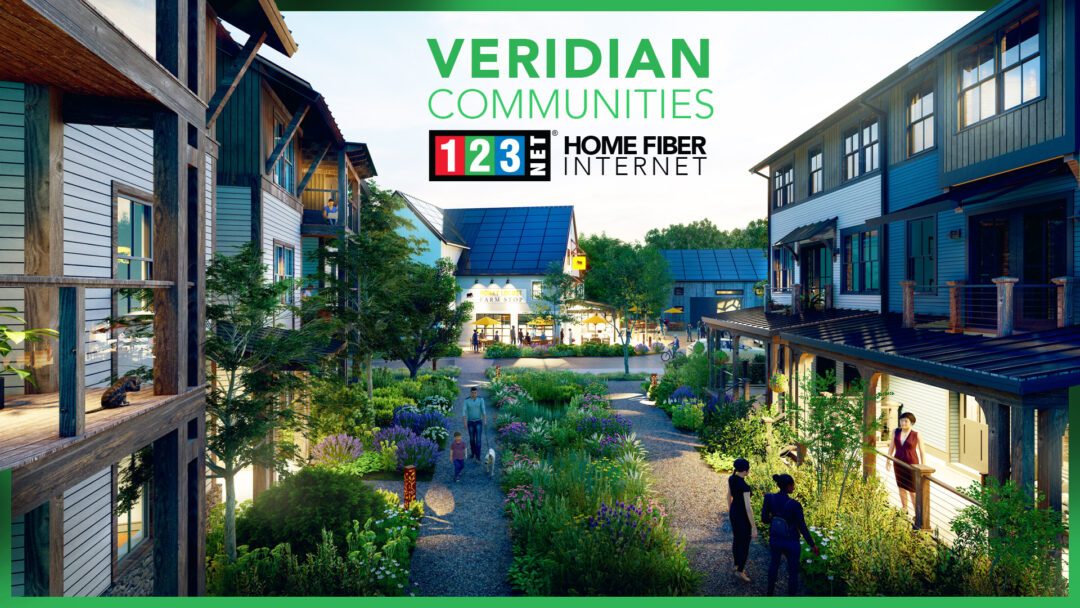 Ann Arbor, Michigan August 19, 2022 – 123NET, best known as the premier fiber internet, colocation, and voice services provider for Michigan businesses, continues to expand its residential internet service rollout by partnering with Veridian at County Farm to bring 10Gbps Home Fiber Internet to its innovative community development in Ann Arbor.
Veridian at County Farm is a joint venture between THRIVE Collaborative and Avalon Housing situated on a 14-acre parcel in Ann Arbor that once served as the County Poor Farm and, later, as the Washtenaw County Juvenile Detention Center. It's now being transformed into one of the nation's first mixed-income net zero energy communities featuring 100% all-electric energy, powered by solar, with resilient energy storage and no gas lines or combustion appliances.
The community's mission to accelerate the transformation to a truly sustainable human-built environment that's nature rich and ecologically restorative meant the developers needed to scrutinize each on-site amenity. 123NET's Home Fiber Internet was selected as the internet provider for all residents. As a result, Veridian residents will enjoy having one of the fastest residential internet connections available anywhere on the planet. 
"Residents of the Veridian, which will likely include employees of the University of Michigan, can expect robust and reliable connectivity service for their high-speed data and multimedia applications that will ensure a superior online experience," said Jon Eyerman, Vice President – Sales Operations.
Veridian has won numerous national and international recognitions as a community 'designed for the future.' This distinction represents the community's eco-centric approach and dedication to providing amenities that residents require to meet their goals, including world-class internet connectivity. Veridian's 10Gbps Internet as an Amenity service also helps to bridge the digital divide since all associated costs are carried by the HOA dues paid by market-rate homeowners. However, all residents, including those in affordable housing, will receive full Internet benefits.
"Fiber optic cabling is the most sustainable internet option available in today's market, with a longer lifespan, less energy consumption, and reduced overall greenhouse emissions into the environment, making 123NET's fiber Residential Services the perfect solution for our net-zero community," said Matthew Grocoff, of the THRIVE Collaborative.
Construction is just starting on the residential units, with an estimated completion date in 2023. Learn About the Internet as an Amenity Solution.