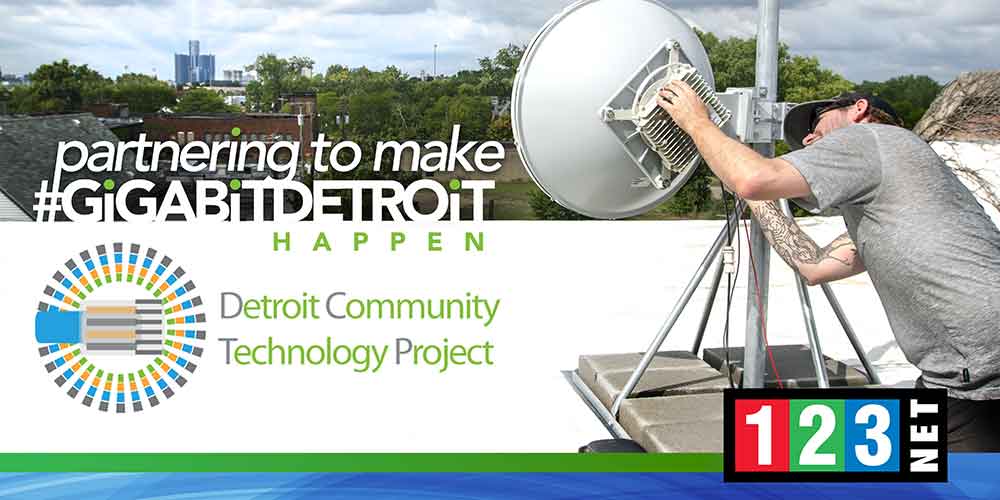 SOUTHFIELD, Mich., October 09, 2018 – The Detroit Community Technology Project's (DCTP's) passion is fostering digital literacy and human connection within their communities and globally. The Equitable Internet Initiative (EII), a DCTP program, is a collaboration between several community organizations and neighbors in Detroit to distribute Gigabit internet connections to at least 150 homes. EII trains Digital Stewards to ensure that more Detroit residents have the ability to leverage online access and digital technology for social and economic development.
Diana Nucera, Director of the Detroit Community Technology Project, sees partnering with 123NET as a great opportunity to expand the work that DCTP has already been engaged in, "123NET sees what we see in Detroit. They understand that this City is experiencing tremendous growth, but too many people are being excluded from that growth. Our goal is to empower our community to own digital infrastructure and change the narrative of the internet from a place of consumption to a place of creation."
123NET is excited to partner with DCTP through its Equitable Internet Initiative. "We know that in a city so poorly connected, our residents won't be able to attain the opportunities, education, and careers that they deserve to pursue. The Detroit Community Technology Project focuses on preserving the rich culture of the city by progressing the digital literacy of the population, and we saw an opportunity to use our infrastructure successes to advance that goal. We hope to be able to help DCTP leverage our experience and technology to propel Detroit's inevitable development by empowering Detroiters to control their own network," said Dan Irvin, CEO of 123NET.
The partnership consists of six 1 Gbps connections from 123NET to three neighborhoods that are part of the Equitable Internet Initiative: Southwest Detroit through a partnership with Grace in Action, Islandview in Southeast Detroit through a partnership with Church of the Messiah, and the North End through a partnership with the North End Woodward Community Coalition. Digital Stewards, community members who are trained by DCTP in technical skills and community organizing, distribute and maintain those connections throughout these neighborhoods. The Digital Stewards share a passion for digital literacy and a desire to expand their own knowledge base.
About the Detroit Community Technology Project
The Detroit Community Technology Project seeks to promote digital literacy, education, and creation through multiple programs, including the Equitable Internet Initiative and Digital Stewards programs. Through these projects, the DCTP expands access to wireless broadband and digital literacy training to three Detroit neighborhoods. For more information, please visit https://detroitcommunitytech.org/