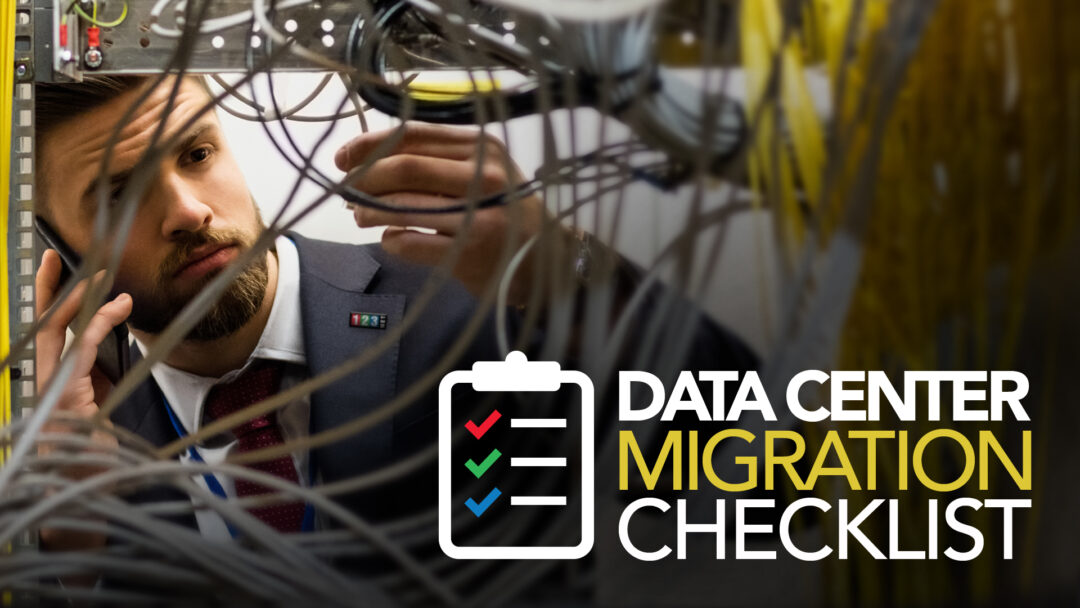 123NET Data Center Migration Checklist
Housing IT equipment has a cost. Generally, building, managing, and maintaining an onsite rack space will cost you between $1,000 and $1,500 per month on average. Cloud services could prove even more costly if misconfigured.
A data center migration is the deploying and transferring of an existing data center environment to the operating environment of another data center. It is a thorough process of plans for migration of the existing data center to a different site or facility. The 123NET Data Center Migration Checklist takes you through crucial steps, which focuses on downtime and risk reduction, in the migration of your data center.
Developing a Project Plan
On average, data center migrations take 1 to 2 months. To build a data center, it takes 18-24 months.
Engage & Pinpoint All Functions & Stakeholders Within the Affected Organization 
Find a Migration Manager that Handles the Process, Communicates Developments & Ensures the Project's Fruition 
Facilitate a Strategy, Focused on Timelines, Budgets & Success Benchmarks 
Receive Stakeholder Approvals 
Craft a Communications' Procedure to Keep all Parties Progress-Focused 
Identify Roles & Duties Before, During & After the Undertaking 
Consider SLA & Other Contracts for Terms/Conditions, Including Early Termination 
Inventory Assets and Applications
Building a data center requires 5 to 10 pieces of different equipment. On average, there are up to 5 types of equipment that is required.
Explore if Asset Inventory Requires Discovery Software, Manual Completion, or Both 
Utilize Equipment & Hardware Stock to Explore Ownership & What Must be Migrated 
Finish Taking Stock of Network Connectivity 
Finalize the Tabulation of All Hardware Applications Running 
Establish Any Undocumented Hardware & Applications 
Determine Categorized Cabling & Decommissioned Inventory 
Achieve Identifying Labeling Structure to Determine Necessary Equipment & Transfer Timeline 
Planning of New Infrastructure
The average data center layout has a Power Usage Effectiveness (PUE) between 1.75 and 2.4.
Consider the Site Layout to Decide Where Equipment Placement is Implemented
Implement a Virtual Layout with Equipment Location & Connection Path to Outcomes
Confirm the Design of the Network with the Engineering Team
Determine Cable Lengths to All Power & Data Connections to Minimize Post-Migration Potential "Spaghetti Cabinet"
Establish IT Deployment Power Capacity Alignment for Each Row & Rack

1: Before Migration 2: Day of Migration 3: Post Migration Put Together a Migration Plan that Establishes Roles, Contact Information & Timelines Establish Accessible Movement Plan Confirm Migration is Successful Direct Project to Mitigate Critical Application & Resource Impact (if possible) Make Sure All Equipment is Delivered Guarantee Network Operations Center (NOC) Observes Systems Working Again Schedule Migration Service
(if needed) Ensure the Assembly of All Personnel Determine Equipment is Physically Installed & Connected Familiarize Yourself with the Site Layout Record Migration Progress Dispose / Decommission Old Cabling & Equipment Build Instructions for Device Installation Plan Additional Migration Changes Ensure Site Access & Security Clearance for All Necessary Team Members Structure Data in One Location Build Plans & Detail New Configurations to Determine Functionality Craft a Contingency & Disaster Recovery Plan Plant Hardware Before the Move Determine Initial IT Asset Works Do a Dry Migration Run 123NET Can Migrate Your Data Center
123NET will help and assist you throughout your entire data center migration process. Discover your options today with premium data center space starting at $299 per month.