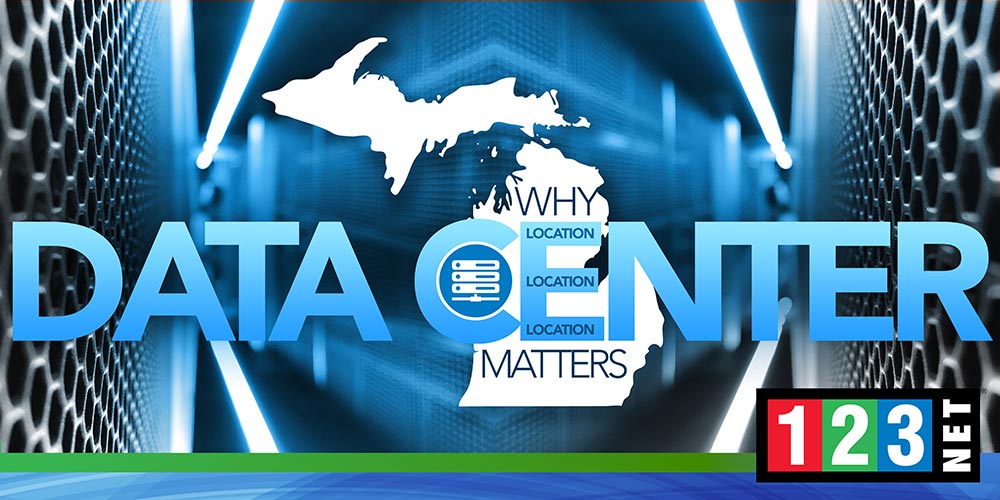 Data center location should always be a top priority for Michigan businesses. Choosing a data center in an optimal location not only provides immediate advantages, it also prevents major headaches down the road. 123NET carefully handpicked an ideal environment for each of its four Michigan colocation data centers.
How Physical Location Affects Network Speed.
While people may think that bandwidth is the only factor determining speed, that's not the case. The physical distance from a data center to an application can significantly affect network latency. For this reason, many companies, such as healthcare companies, are seeking data centers local to their office space. These companies are gaining a clear edge over the competition due to the speed advantage lower network latency provides. While it could be less expensive to collocate further away, or even out of state, it is often not worth sacrificing speed.
Natural Disasters Can Affect A Data Center!
Businesses that collocate in areas prone to natural disasters are playing with fire. Events such as earthquakes, hurricanes, and tornadoes can cause critical power outages, leading to crippling downtime. If the best data center option happens to be in a disaster-prone area, consider selecting a backup data center at a safer location, preferably on a different power grid.
Physical Accessibility To your Critical Infrastructure.
Data center space should be in an area that is comfortable to reach. Personnel may need to travel to the data center to make upgrades and service equipment. If a data center is out of driving distance, consider the logistics of transporting personnel and equipment through the air.
How Many Connections Does Your Data Center Have?
Businesses can take advantage of data center connectivity by creating multiple channels that will keep data moving freely despite outages. This makes data centers in well-connected areas safer and more reliable. It also gives businesses more room for growth, as they can easily make plenty of connections within the data center itself.
Why 123NET Data Centers Are The Right Choice For Michigan Businesses.
Simply put, 123NET's three Southfield data center facilities have a superior location. They have access to more than 20 carriers, are in low-risk southeastern Michigan and close to thousands of Metro Detroit businesses. 123NET also has secure, easily accessible data center space in Grand Rapids that makes for premier primary or backup colocation space. Contact us today to learn more about the strategic advantages you can gain from data center location!