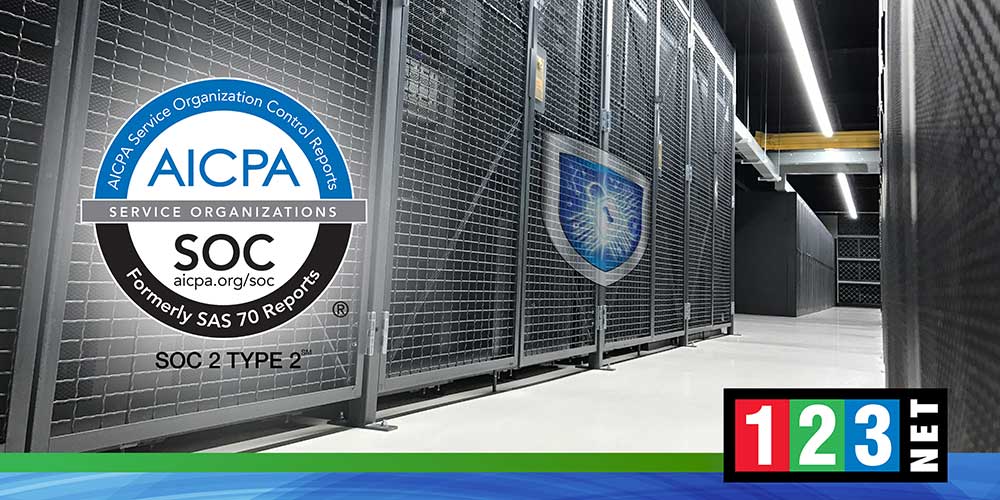 In the world of data centers, keeping customer information safe is critical. 123NET has taken several measures, including SOC 2 compliance, to ensure that each customer's most valuable data will be secure.
What Is SOC?
SOC is an acronym for Service Organization Controls. It consists of standards used to determine how well organizations handle their information. Independent accounts conduct SOC audits by determining whether proper safeguards and procedures are in place.
What is SOC 2?
SOC 2 reports are targeted toward providers that store information in the cloud. It is a strict technical audit, focusing on five principles of trust: security, availability, processing integrity, confidentiality, and privacy.
Security
To earn SOC 2 compliance, providers must prove that customers are protected against unauthorized access. Auditors analyze how equipped a data center is to prevent theft and system abuse. Firewalls and intrusion detection services are two elements that play an important role in this.
Availability
Providers must prove that their system, products and services are accessible, as stipulated by a set contract and/or a Service Level Agreement (SLA). To ensure that both parties meet their predetermined minimum acceptable performance level, auditors track network performance, availability, site failover and security.
Processing Integrity
Data centers with satisfactory processing integrity deliver data accurately and completely in a timely manner. Auditors closely monitor data processing and quality assurance to help evaluate processing integrity
Confidentiality
Confidential information is any set of data that is disclosed and restricted to a certain group of people. Providers must show that they can avoid leaking private data, business plans, intellectual property and several other items to prove this. Encryption, firewalls and rigorous controls are pieces of evidence that auditors use to determine confidentiality.
Privacy
Providers must show that they can effectively collect, retain, use, disclose and dispose of customers' personal information. Details such as race, sexuality, health and religion should always be protected for the sake of the customer.
When customers choose their data center providers, security is always a top priority. All four of 123NET's data centers are consistently audited to maintain SSAE-18 SOC 2 Type II / SOC 3, HIPAA and PCI-DSS compliance, ensuring that each customer's most confidential data is well protected, stored and maintained.
To learn more about colocating at 123NET's four SOC 2 certified, Michigan data centers, visit data center & colocation information page or call to schedule a tour today!