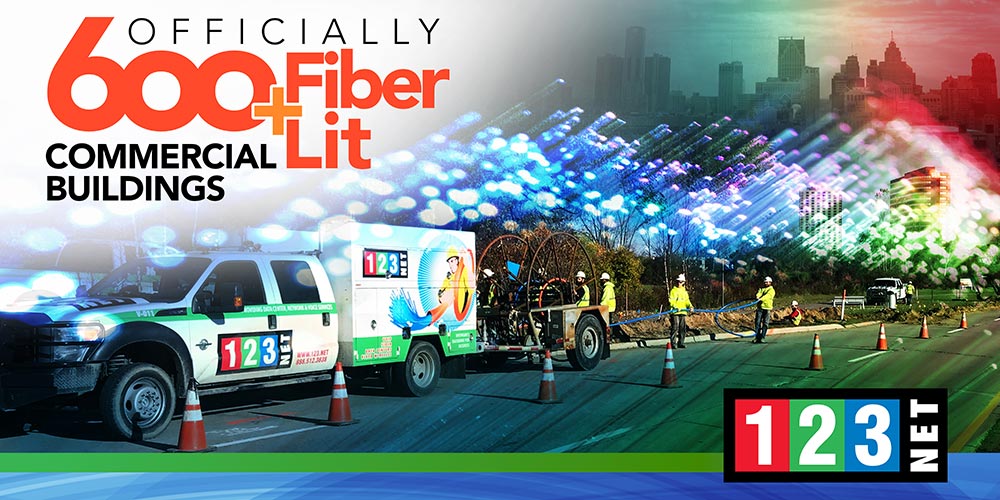 DETROIT, Mich., – In May 2018, 123Net surpassed its goal of bringing high-speed fiber to over 600 commercial buildings. The goal was established more than two years ago as 123Net ramped up its focus on connecting Michigan's enterprises to its fiber optic network.
"We are concentrating on building the most reliable, densest, business fiber network in Michigan with a particular focus on Metro Detroit and Grand Rapids," said Chuck Irvin, Director of Network Development at 123Net. "This network is directly connecting users to the Detroit Internet Exchange (DET-IX), the 14th largest peering hub in the United States in terms of traffic. Through the DET-IX, members are freely exchanging traffic with global titans such as AWS, Twitter, Netflix and many international carriers."
123Net is not only investing in Michigan's infrastructure, it's investing in the state's talent as well. Its staff has quadrupled in the last five years, now employing over 150 hardworking Michiganders. This includes nine experienced, enterprise-focused construction crews dedicated to building 123Net fiber. At 123Net, fiber design, permitting, construction and provisioning are all performed in-house.
Over a dozen Fortune 500 companies and hundreds of large, medium and small businesses trust 123Net to provide them with world-class connectivity delivered via Michigan's business fiber network. With many more fiber lit buildings on the way, 123Net will continue its focus on providing the best business Internet coverage in Michigan.
About 123Net
123Net is a Michigan-based Internet service provider focused on equipping businesses with industry-leading data center, voice, fiber, fixed wireless and other network services. Home of the Detroit Internet Exchange, 123Net maintains the largest carrier hotel and peers with technology leaders such as Google, AWS and others.