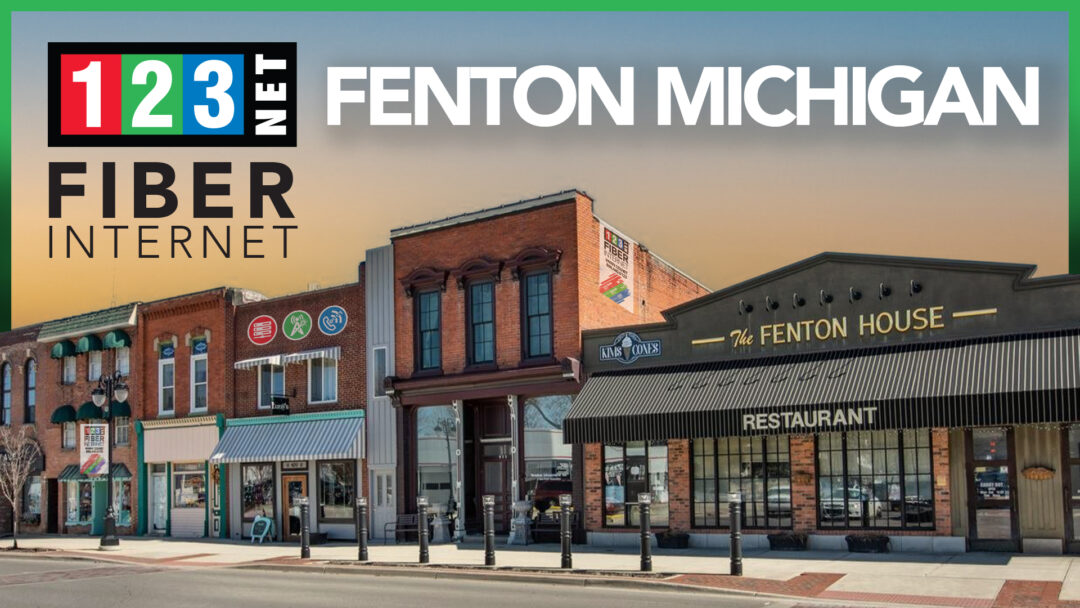 Southfield, Michigan, March 13, 2023 – 123NET, Michigan's premier fiber internet, colocation and voice service provider, announced today that it is expanding its presence in the Fenton community with new fiber construction to provide better connectivity and reliability to the city's businesses, neighborhoods and underserved areas.
This latest fiber investment follows 123NET's July 2022 announcement of a new 130-mile fiber route along the I-75 corridor from Southfield to Bay City to be built in partnership with Peninsula Fiber Network. 123NET is building from that backbone to connect the Fenton route which will provide dual service paths through the community and dramatically improves service for those who connect.
Options for connectivity along the I-75 corridor are sparce, with many areas like Fenton only offering Charter Communications service options. One business that is taking advantage of this new connectivity option is long-time 123NET customer, Client Financial Services, that needed to find a new solution after the Federal Communication Commission ruled that existing copper circuits are being phased out.
"CFS serves a large client base in the medical sector, and 123NET understands our need for the highest uptime standards. When our account representative approached us with the news of their diverse fiber project, we were thrilled," stated Ryan Clymer, network service administrator at CFS. "It is exactly the type of solution we were looking for in order to expand our capacity to provide optimal service to our clients and community."
The Fenton path adds more than five miles of new fiber while also replacing outdated copper circuits that were still in use in some parts of the county. Construction will be built concurrently with the Southfield to Bay City route, which in its entirety will be completed near the end of 2024.
"As 123NET continues to invest in our long-haul fiber network, we open new opportunities to better serve the state's municipalities, businesses and residents along our routes," said Chuck Irvin, 123NET vice president. "We're really excited about Fenton as it is one of the largest business hubs between Pontiac and Flint and is growing rapidly."
123NET fiber offers massive amounts of capacity, up to 400 gigabits per second with speeds up to 100x times faster than cable. Businesses that are interested in fiber connectivity are encouraged to review 123NET's Network Map. The closer a business is to 123NET's existing fiber, the easier, and more affordable, it is to connect. 123NET has extensive fiber hubs in Southeastern Michigan, including Metro Detroit, Grand Rapids, Ann Arbor, Jackson, Flint, Port Huron, and Kalamazoo.