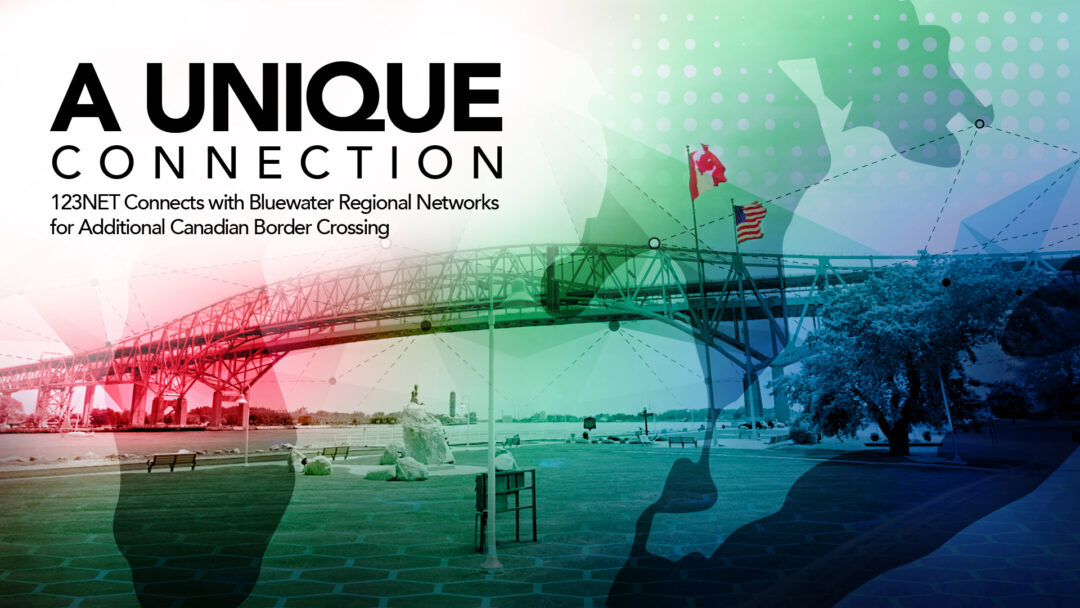 Southfield, Michigan,  June 3, 2021 – 123Net, Inc. (123NET), a Michigan colocation, network, and voice services provider, has connected with Bluewater Regional Networks Inc., a network operator, to improve network speed, cost and diversity for connectivity between the U.S. and Canada, the busiest and most crossed telecom border on the planet. 
The new network linking Sarnia, Ontario with Port Huron and Lapeer, Michigan provides a unique border crossing between Toronto and Chicago without touching Detroit or Buffalo. The new route further addresses the growing but underserved regional needs between Michigan and Ontario with new high-speed connection capability and local diverse access points.
"The new connection with Bluewater both figuratively and literally opens the door for improved connectivity between the U.S. and Canada. Truly effective internet and data connectivity requires multiple, redundant pathways. Working with Bluewater gives 123NET clients Pure Diversity in a Pure Michigan way."

Bob Evenson, 123NET Carrier Relations Manager
Improved international crossing alternatives are a benefit to any business with operations on both sides of the border. With the new connection, Bluewater's customers will have access to 123NET's large Michigan network, and be able to route traffic through the Detroit Internet Exchange, the largest fee-free exchange in the world, housed at 123NET's Southfield headquarters.
"When we built our new international crossing to provide high value disaster recovery capability to the global customers in Southwestern Ontario, we were looking for a great partner who shared our core values to help us reach their U.S. locations. 123NET shares our drive to be the go-to resource for mission critical network operation in the region with both companies becoming stronger as a result of this new relationship."

Chris Gould, Bluewater Regional Networks' Chief Operating Officer
Protecting data moving across international borders is becoming more critical for businesses requiring shorter diverse route options between markets. It's critical for businesses to partner with established service providers and maintain multiple connection points to enhance edge connectivity.
This connection is now live and available to Michigan businesses. 
ABOUT BLUEWATER REGIONAL NETWORKS INC.
An affiliate company within the Bluewater Power Group of Companies that has been serving Sarnia Lambton for over 100 years, Bluewater Regional Networks Inc. was formed in 2016 to provide digital infrastructure in Sarnia-Lambton and complete connectivity throughout Canada. Through innovation and vision, we originally evolved from our local utility offerings to provide telecommunications services including data, internet, wireless and advanced cloud services to underserved areas. For more information, contact sales@bregional.com.
ABOUT 123NET
123NET is a Michigan-based Internet Service Provider (ISP) focused on equipping businesses with an industry-leading data center, network and voice services. Over a dozen Fortune 500 companies and thousands of Michigan businesses trust 123NET to provide them with world-class connectivity. Home of the Detroit Internet Exchange (DET-iX), 123NET operates one of the largest carrier-neutral data centers and peers with technology leaders such as Google, AWS, GM and others.
OUR MISSION:
BUILDING NETWORK TO MAKE MICHIGAN COMMUNITIES AND BUSINESSES THE BEST CONNECTED ON THE PLANET.