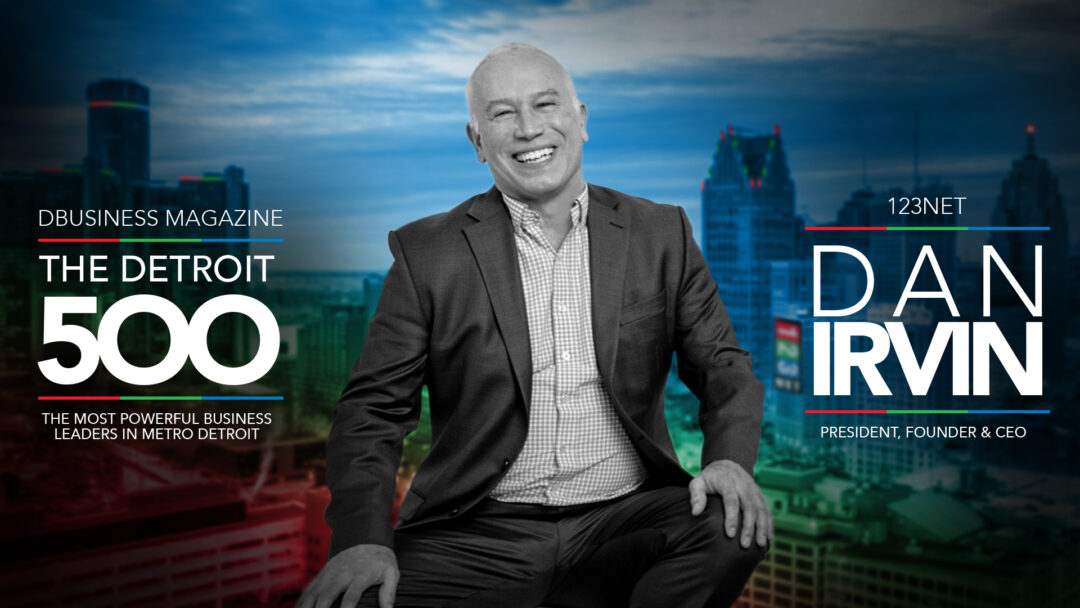 Southfield, Michigan, September 9, 2021 – 123NET President & CEO Dan Irvin has been named to the Detroit 500, a comprehensive list of business leaders from more than 30 industries across metro Detroit and Michigan.
Published by DBusiness, Detroit 500 honorees are considered some of the most influential business leaders in Michigan based on extensive biographical research done by the magazine's staff. The individuals showcased were selected based on a number of factors including company size, growth rate, geographical reach, recent accomplishments, and extensive personal networks.
Under Irvin's leadership, 123NET has steadily enacted its mission of making Michigan the "best connected on the planet" by providing premier fiber internet, colocation, and voice services for local communities and businesses. The company has installed more than 4,500 route miles of high-speed fiber throughout Michigan and also launched the Detroit Internet Exchange, the largest fee-free exchange in the world.
An entrepreneur at heart, Irvin suggested that the best advice he ever received was to "remember you'll always regret what you didn't do, rather than what you did." In the feature, Irvin discussed his approach to problem-solving, saying "obstacles don't have to stop you. If you run into a wall, don't turn around and give up. Figure out how to climb it, go through it, or work around it." It's an approach that's helped fuel his company's remarkable growth.
The complete Detroit 500 list can be downloaded here.
ABOUT 123NET
123NET is a Michigan-based Internet Service Provider (ISP) focused on equipping businesses with an industry-leading data center, network, and voice services. Over a dozen Fortune 500 companies and thousands of Michigan businesses trust 123NET to provide them with world-class connectivity. Home of the Detroit Internet Exchange (DET-iX), 123NET operates one of the largest carrier-neutral data centers and peers with technology leaders such as Google, AWS, GM, and others.
OUR MISSION:
BUILDING NETWORK TO MAKE MICHIGAN COMMUNITIES AND BUSINESSES THE BEST CONNECTED ON THE PLANET.