E-LAN Overview
What is E-LAN?
123NET's Ethernet LAN (E-LAN) enables any-to-any connectivity for businesses that need to connect all their locations on a single network. E-LAN brings together cost-effectiveness, speed, simplicity and flexibility in a broadly customizable Ethernet solution. E-LAN provides a multipoint-to-multipoint Ethernet Wide Area Network (WAN) that extends your Local Area Network (LAN) allowing your company's business-critical applications and data to travel seamlessly across the entire network. E-LAN can move large amounts of information between sites, quickly and securely. 
Ethernet Private LAN (EP-LAN) Service
A Port-based Service of E-LAN Service Type that enables Subscribers with multiple sites to interconnect them so that all sites appear to be on the same Local Area Network (LAN) and have the same performance and access to resources such as servers and storage. An EP-LAN service is a highly transparent service that connects multiple UNIs. 
Ethernet Virtual Private LAN (EVP-LAN)
A VLAN-based Service of E-LAN Service Type. Some Subscribers desire a service of E-LAN Service Type to connect their UNIs in a network, while at the same time accessing other services from one or more of those UNIs. An example of such a UNI is a Subscriber site that wants to access a public or private IP service from a UNI that is also used for a service of E-LAN Service Type among the Subscriber's several locations. Ethernet Virtual Private LAN (EVP-LAN) service is specified in this subsection to address this need.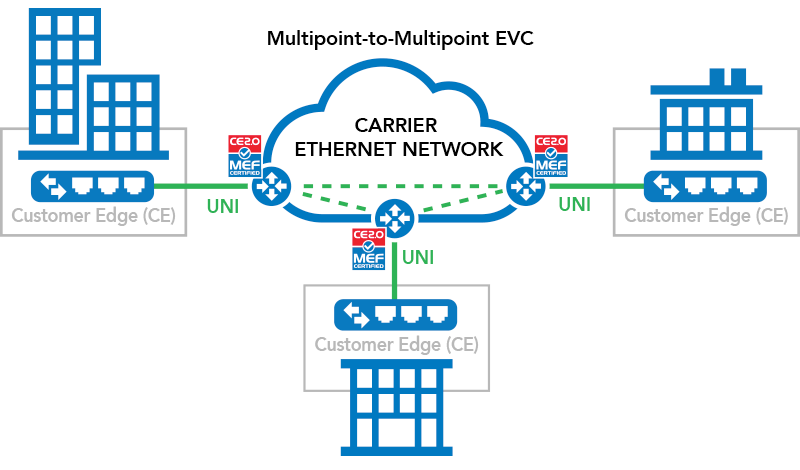 E-LAN Benefits
Privacy
All data travels within the secure domain of a Layer 2 dedicated, high-capacity, point-to-point connection at native Ethernet speeds.  

Standards-Based
Depend on Ethernet LAN (E- LAN) MEF 2.0 certified equipment.
Traffic Separation
Maintain discrete pathways when you consolidate previously separate domains for specific applications or departments onto a single network.  

Cost Savings
A single handoff reduces network equipment and management costs.  

E-LAN Features
Speeds from 10 Mbps to 10 Gbps
Dedicated Bandwidth Configurations
Dedicated Connections with Protection Options
Standards-based IEEE Ethernet server for Layer 2 Transport
802.1Q VLAN Z & 802.1QinQ Tunneling Supported
MEF Carrier Ethernet 2.0 Certified Technology
24/7 Network Monitoring
Service Level Agreement ("SLA")