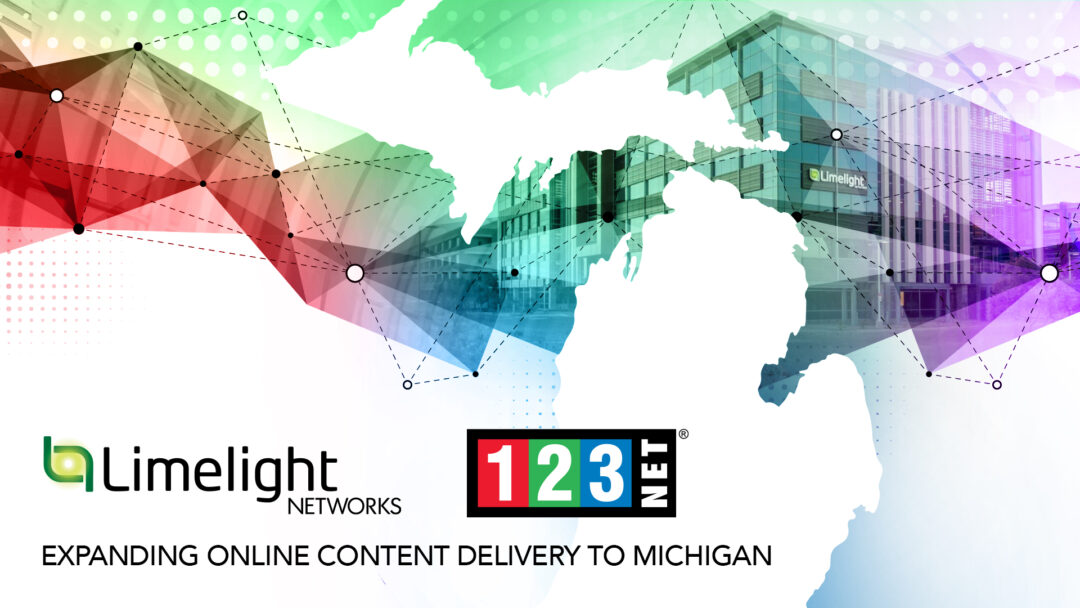 Southfield, MI – April 14, 2021 – 123.Net Inc. (123NET), a Michigan colocation and network services provider, supports Limelight Networks, Inc., a leading provider of content delivery network and edge cloud services, to distribute Limelight's online content closer to end-users in the Michigan market.
Today's launch comes when global streaming and viewer traffic is at their highest historical point due to the impact of the pandemic. Streaming services saw a 47% increase in subscriptions and 16% increase in video consumption due to the increased number of people studying, working, and shopping from home.

As a result of the dramatic increase in streaming, this is a welcomed announcement for Michiganders who use the digital services. The new point-of-presence at 123NET's facilities enable Limelight Networks to establish servers hosting high-demand content closer to the end-user's customers in the state, which effectively reduces the distance and the inherent delay in delivering rich content such as live sports and gaming.
Limelight has spent the last 20 years, building a large global network to deliver high performance and assist consumers in streaming videos and digital content. Initially entering the edge computing market in 2018, the content delivery network anticipates that this market represents an important area of growth. To assist with regional expansion, 123NET provides secure and compliant data center services, complete with cross-connect and high-performance computing options.
Limelight Networks Interconnection Manager Matthew Johnson said this is consistent with their geographic strategy of partnering with premier network service partners closer to their end-users.
"Our decision-making focuses on bringing proximity, capacity, and quality to end-users and connectivity into consideration. We chose 123NET because of its strategic Michigan location with a large composite of major networks."

Matt Johnson, Limelight Networks Interconnection Manager
123NET Strategic Accounts Noah Lessaris sees the 123NET data centers as the best way for the carrier to assist in expanding Limelight's content audience.
"Our facilities are the best connected in Michigan, and that advantage makes it possible to work with Limelight Networks. This growth into our market adds momentum to our mission of improving connectivity for Michigan communities and businesses."

Noah Lessaris, 123NET Strategic Accounts
123NET is also home to the Detroit Internet Exchange (DET-iX), the 9th largest internet exchange in North America.