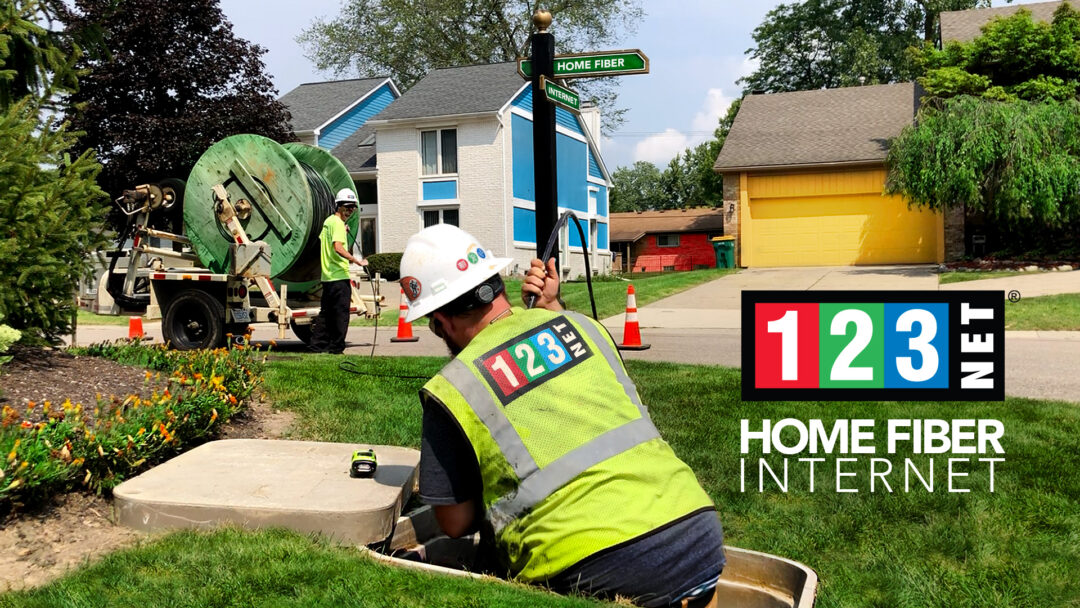 123NET delivering business-class internet to a select Farmington Hills neighborhood.
Southfield, Michigan, August 25, 2021 – 123NET, best known as a premier fiber internet, colocation, and voice services provider for Michigan businesses, is launching a pilot program offering fiber internet to Farmington Hills area residents. This solution is the first of its kind to provide 10 Gbps fiber internet to Michigan residences.
123NET is unique because it owns its entire network, consisting of more than 4,500 route miles of high-capacity fiber across Michigan and encircling key markets within the state. Once fiber has been installed, it's relatively easy to provide solutions to nearby areas – something that 123NET has been offering to businesses for nearly three decades.
Residents south of 13 Mile and west of Orchard Lake Road in Farmington Hills will be the first residential customers to benefit from 123NET's Home Fiber Internet providing symmetrical speeds that are 100X faster than Comcast and AT&T.
"123NET's mission is building network to make Michigan communities and businesses the best connected on the planet," said Ryan Duda, 123NET's CTO. "We want to make outdated cable and DSL internet a thing of the past by providing a new standard for internet performance to Michigan residents."
According to Duda, the Farmington Hills pilot program largely resulted from the efforts of area residents who knew that 123NET had fiber in the area and understood its potential benefits to homeowners.
"There are tremendous advantages in bringing business-grade internet to a cluster of homes," said Justin Lampman, 123NET Director of Network Operations. "After the group of homeowners in Farmington Hills got organized and requested our services, we conducted a feasibility study to ensure the pilot would deliver the performance and service advantages in a way that was financially viable for both residents and 123NET. We're thrilled to be moving forward and launching this program."
123NET's Home Fiber Internet is connected by one or more 10 Gbps Symmetrical – Passive Optical Network (XGS-PON) technology with added benefits from WiFi 6. Residents can expect connectivity that provides stable, reliable wireless connections for high-speed data and multimedia applications to ensure a superior online experience.
As a result of the Farmington Hills pilot, Royal Oak is being evaluated for the next 123NET Home Fiber Internet deployment. The company anticipates additional demand for its premium Home Fiber Internet services and believes that at least 200,000 Michigan residential homes could qualify.
The fastest way to get fiber internet into your community, visit: www.123.NET/GEThome-fiber
ABOUT 123NET
123NET is a Michigan-based Internet Service Provider (ISP) focused on equipping businesses with an industry-leading data center, network, and voice services. Over a dozen Fortune 500 companies and thousands of Michigan businesses trust 123NET to provide them with world-class connectivity. Home of the Detroit Internet Exchange (DET-iX), 123NET operates one of the largest carrier-neutral data centers and peers with technology leaders such as Google, AWS, GM, and others.
OUR MISSION:
BUILDING NETWORK TO MAKE MICHIGAN COMMUNITIES AND BUSINESSES THE BEST CONNECTED ON THE PLANET.