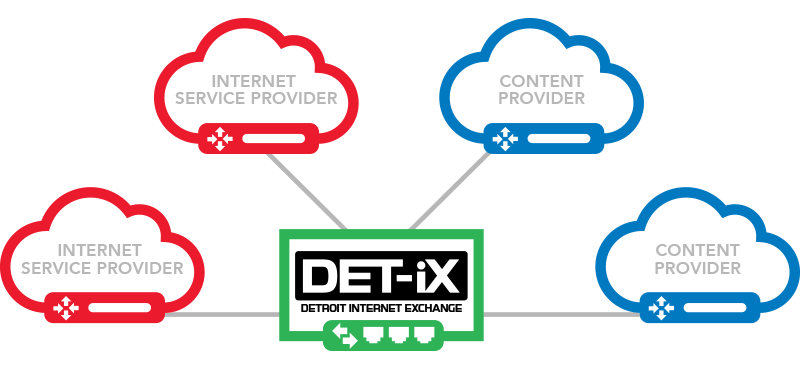 Detroit Internet Exchange Offers Peering via EdgeConneX to Create the Shortest and Most Direct Route Between Content and Customers
Herndon, VA – April 25, 2017 – EdgeConneX®, specializing in global data center solutions at the edge of the network, today announces its partnership with the Detroit Internet Exchange (DET-IX), offering connectivity solutions via its Edge Data Center® (EDC) in Southfield, MI. Owned and operated by 123NET, DET-IX is a not-for-profit regional Internet exchange point (IXP) located in Southfield, connecting through five carrier neutral data centers. Membership and interconnection is free with available peering for local EdgeConneX customers, including wireless carriers, service providers, content delivery networks (CDNs), cloud providers and enterprises. DET-IX has over 25 unique networks that connect members regionally, with throughput peaking at 35 Gbps, ranking DET-IX as one of the top 100 exchanges in the world. This is the third facility operator DET-IX is expanding into, making connectivity to DET-IX easier than ever.
EdgeConneX, offering high-density power in a highly redundant, reliable and climate-controlled 40,800 square-foot facility, delivers up to 20KW per cabinet, N+1 design and provides tenants with the most efficient placement of their content and applications. EdgeConneX has arrangements with multiple carriers for dark and lit fiber, as well as for out-of-band (OOB) signaling and dedicated internet access (DIA) at the EDC. The current list of carriers includes 123NET, AT&T, Comcast, Lightower, US Signal, Telia, TelNet and WOW! Business.
"Our Edge Data Centers facilitate innovative distribution models that support our customers' content, hybrid cloud needs and applications at the edge of the network," notes Clint Heiden, chief commercial officer, EdgeConneX. "123NET is committed to deploying smarter technology to develop agile workforces and promote business innovation, and this corresponds well with our policy of precisely locating the EDC to offer customers a secure colocation facility to deliver content and applications to local-market consumers with the lowest possible latency."
"123NET and the DET-IX is pleased to have EdgeConneX join the exchange, furthering the mission in offering reduced latency, better connectivity and cost savings to its members," adds Ryan Duda, CTO, 123NET.
About DET-IX
The Detroit Internet Exchange (DET-IX) is a not-for-profit Regional Internet Exchange Point (IXP) with a switching fabric expanding throughout Southfield Michigan. Membership and ports are free. The collaboration of carriers, ISP's, Content Providers and Enterprise Businesses connected to DET-IX allows for traffic to be exchanged freely, rather than paying to make the connection. This not only reduces the cost of exchanging traffic but provides a localization of traffic for the 4.5 million inhabitants of the Detroit metro area. For more information visit detroitix.com.