Cloud Connect Overview
Dedicated Point-to-Point Connectivity to the Cloud
123Net Cloud Connect allows you to create private connections between your infrastructure and cloud-based applications. Traversing over private, point-to-point connections, your business's traffic will never touch the public Internet. With 123Net Cloud Connect your business avoids the downfalls presented by public Internet connections.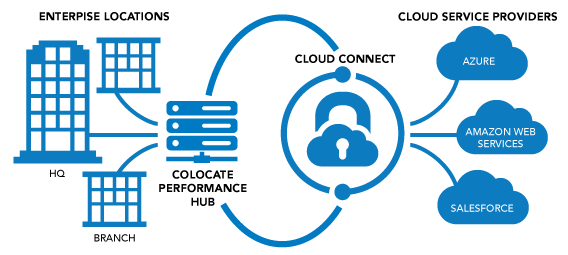 Available Cloud Service Providers
Amazon Web Services (AWS)
Microsoft Azure
Salesforce
Google Cloud Platform
Oracle Cloud
IBM Cloud
Alibaba Cloud
And many more
Cloud Connect Features
Included Features
Description
Cloud Connectivity
Directly connect to multiple clouds in multiple locations
Network Optimization
Make your traffic local by implementing our infrastructure, cloud and IT resources across multiple locations
High Availability
Connect to cloud and IT services across multiple locations over one port for redundancy and high availability
Distributed Data
Connect IT resources at the edge to improve end-user experience
Application Optimization
Using a private network lowers latency and improves application performance

SD-WAN

Integration
Extend your SD-WAN architecture to reach IT infrastructure across multiple locations

Service Level Agreement

99.99% network uptime for dual ports, 99.9% network uptime for single ports
Cloud Connect Benefits
  Sync with the Cloud Service Provider of your choice and enjoy the benefits of 123Net's Cloud Connect.
Improve Performance: Improve end-user performance by connecting directly to your digital ecosystem.
Scale Your Business: Connections are made through a single portal over a software-defined (SD) switching fabric. Easily scale from one to multi-cloud deployments
Boost Agility: Quickly provision virtual circuits in 200 Mbps, 500 Mbps and

1 Gbps increments.  

Greater Control: Determine how and where your network is connected to make traffic more reliable and predictable.
Strengthen Security: Private, point-to-point connections avoid the public Internet, minimizing security threats.
Rich Digital Ecosystems: Extend beyond cloud service providers to connect with other Cloud Connect participants.
Media Type Supported
1 Gbps SX multi-mode

fiber

1 Gbps LX single-mode fiber
10 LR single-mode fiber
Available Connection Speeds
Up to 50 Mbps
Up to 200 Mbps
Up to 500 Mbps
Up to 1 Gbps
Up to 10 Gbps
Connection Options
Connect to participants within a metro and within a region
Connection speeds vary depending on destination
CALL or TEXT
888.440.0123