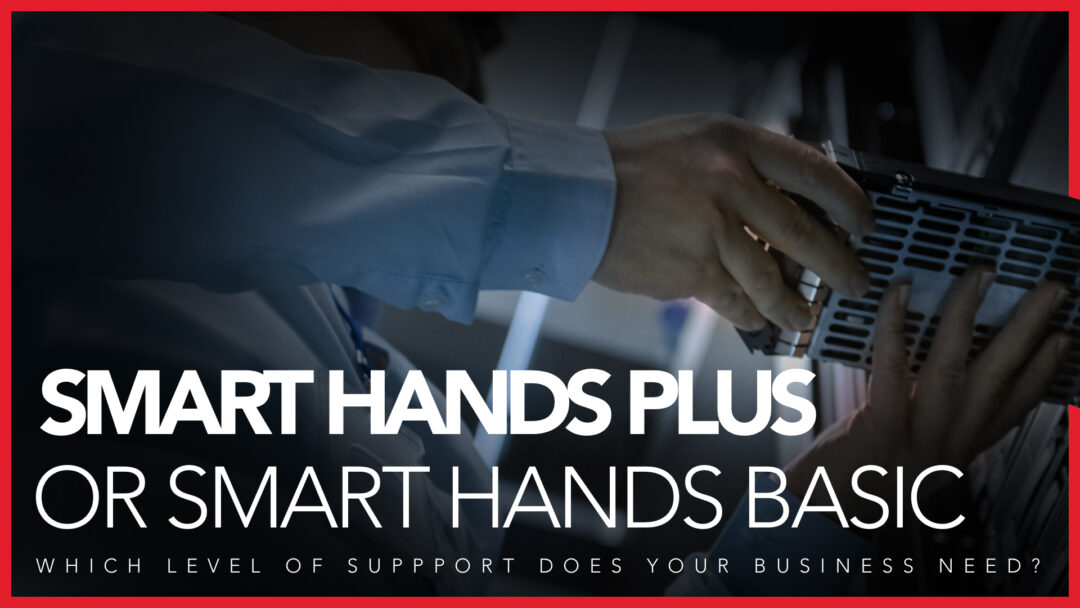 When it comes to colocation support, sometimes it can be all hands-on deck. Managing and securing cabinets, cages, and private suites can reside under the pressure of the IT departments to ensure uptime and reliability. Having direct management can guarantee the process will run smoothly and be in your control. Without having staff on-premise, your company will have to visit the data center to address any issues with your servers, storage, and network.
123NET offers two levels of colocation options to help manage and support your assets in a cost-effective manner: Smart Hands Basic and Smart Hands Plus. Both professional services are beneficial to your data center services for onsite support with your colocation equipment. But how does a business decide which level of support they need?
What is the Difference Between the Two?
123NET Smart Hands Basic is included in every colocation package to help with the basic support functions of your equipment, with the help of a Network Operations Center Technician. Whether it's a server reboot request or reporting data from a console, Smart Hands Basic will make the process trouble-free. 123NET Smart Hands Basic is available during business hours and billed at an hourly rate during off-hours. Smart Hands Basic include:
Moving & Securing Network Cables.
Receiving & Handling Equipment Shipments.
Power Cycling: Disconnecting Equipment & Restoring Power.
123NET Smart Hands Plus ensures that a skilled technician will be available around the clock for on-site support for any emergency or immediate requests that need to be solved. An additional monthly cost is required for this service, yet you get a 15-minute guaranteed response time for any issues at hand. To help your business reduce the frequency and duration of network downtime, Smart Hands Plus has 4 main support functions that help to simplify the process of colocation oversight that include:
Asset Management: Audits of Spaces & Engineering, Basic Organization/Cleaning, Confirming Power Consumption, etc.
Logistics Management: Storage, Labeling, Packing, Shipping, Moving Equipment, etc.
On-Site Support: Available 24/7, Inspections, Testing, Resets, Customer Assisted Access, etc.
Rack & Stack: New Install, Augmentations, Equipment Removal, Cabling, etc.
Which One Is Best for Your Business?
Depending on your business, whether it be in the comfort of your home or having a business miles away, you will always need to have constant support for your colocation equipment. Smart Hands Basic is perfect for basic maintenance tasks that can be easily done with a technician acting quickly with your server. Smart Hands Plus is preferred for larger businesses that may need onsite fixes, that are more technical.
Support is the number one priority in 123NET Data Centers. Inadequate support can lead to frustration, lost revenue, and downtime with clients. 123NET is here to ensure your colocation equipment is operating smoothly. Smart Hands Plus can be added at any time to your colocation services. If your business is in a pinch and needs immediate support, 123NET can find a solution to get you the support you need.