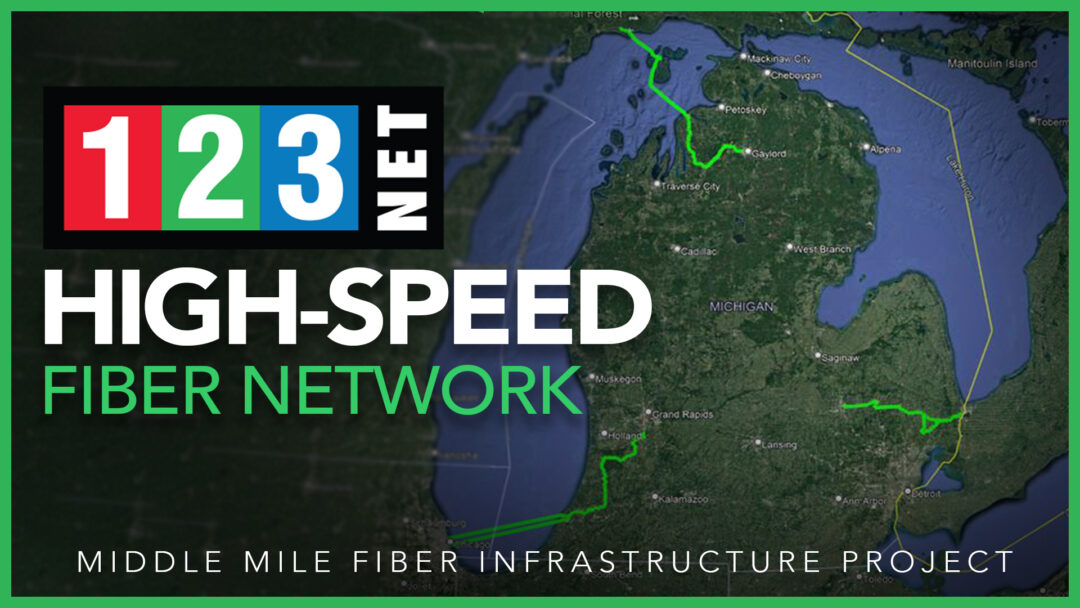 Southfield, MI – June 22, 2023: 123NET announces today that it will be a key participant in a new $87.5 million middle mile fiber infrastructure project that adds resiliency to Michigan's network and connects unserved and underserved areas.
The Infrastructure for Michigan's Peninsula and Critical Crossings (IMPACC) project was submitted in September of last year with PFN (Peninsula Fiber Networks) as the lead recipient and 123NET as a sub recipient. "One of the many unique things about this project is the partnership between PFN and 123NET. Each will be responsible for owning and operating part of the network doubling the impact of the project for the state." Said Dan Irvin, CEO of 123NET.
One key aspect of the project is the installation of two new fiber cables that will be constructed under Lake Michigan to connect 123NET's Data Center in Grand Rapids, MI to one of the Nation's premier connectivity hubs in Chicago. "This will be the first carrier neutral fiber optic cable to be built across Lake Michigan. We expect it to dramatically increase access to and lower the cost of connectivity in the state. The route will enable diverse, low latency connections not just between Grand Rapids and Chicago but also Detroit and Chicago. The best part of all is every small, underserved community along the way will have access to the same world class network." said Irvin.
The extensive project also includes 535 miles of network passing though the following counties: Berrien, Van Buren, Allegan, Lapeer, Macomb, St. Clair, and Genesee. The following municipalities are also included: Benton Harbor, Benton Heights, Byron Center, Dorr Township, Grand Junction, Hartford, Hopkins, Imlay City, Lapeer, Lawrence, Lesterville, Memphis, and St. Joseph.
Most of the funding for the project comes from the National Telecommunications and Information Administration (NTIA) grant. The rest of the project cost, about 30%, is being split between PFN and 123NET. "Internet connectivity is the backbone of Michigan's economy, allowing businesses to thrive, connecting people to health care services and education providers, and helping people communicate locally and around the globe," said PFN General Manager Scott Randall.
123NET will use this new middle mile network to directly serve residents and communities with its new FTTH (fiber to the home) builds and public private partnerships. In addition, 123NET will open the network as a platform to enable other FTTH providers to extend into rural Michigan and help solve the digital divide. "This project is another way that 123NET is creating opportunities for Michigan to be at the forefront of connectivity and make it the best connected on the planet." said Irvin.
Counties, Municipalities, ISPs, and Carriers interested in connecting to this network can reach 123NET at www.123.net.