SIP Trunking Overview
Available on

Fiber

·

Fixed Wireless

· Ethernet over Copper (EoC)
What is SIP trunking?
Unlike traditional telephony, where bundles of physical wires were delivered from the service provider to a business, a SIP trunk allows a company to replace traditional fixed Public Switched Telephone Network (PSTN) lines with PSTN connectivity via a SIP trunking service provider on an IP network.
To take advantage of SIP trunking, the PBX must have a SIP-enabled trunking interface. It can be an IP-based PBX communicating to all endpoints over IP, but it may just as well be a traditional TDM PBX. The sole requirement is that an interface for SIP trunking connectivity
is available.
The IP-PBX on the enterprise networks connects to 123Net via an enterprise border element. The border element could be a SIP-capable firewall or a SIP-aware edge device, working alongside an existing enterprise data firewall.
Feature rich technology such as voice compression allows you to efficiently manage voice communications and bandwidth.
Make phone calls from your phone system without the need of additional cabling. 123Net SIP helps you eliminate the cost of maintaining separate circuits for both voice and data.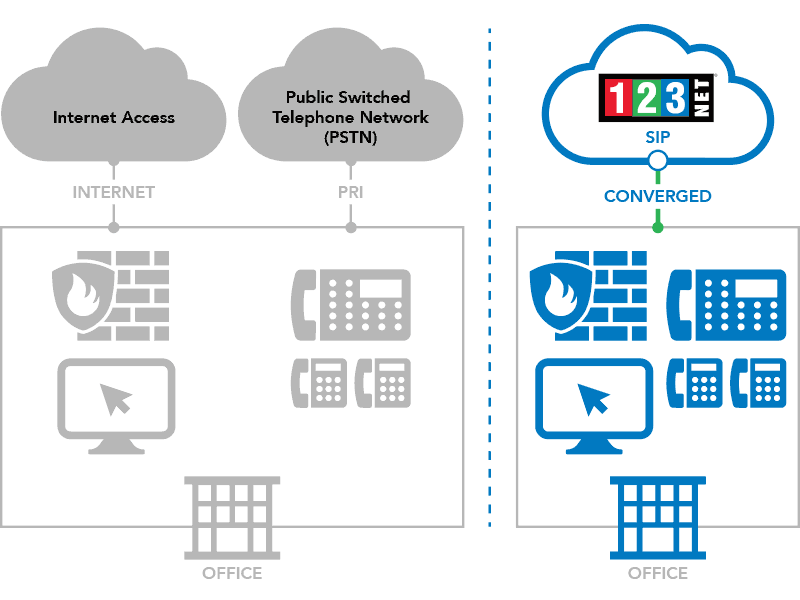 Included Features:
Choice of long distance plans
Local Direct Inward Dialing (DID) numbers
Managed router
Management of your account through the secure 123Net customer portal
Optional Features: