Dedicated Fiber Internet Access
Dedicated Fiber Internet Access (DIA) Overview
Available on

Fiber

·

Fixed Wireless

· Ethernet over Copper (EoC)
Having high speed internet access is one of the most vital tools used by businesses today and to remain competitive, you need an Internet connection at the fastest speeds possible. Designed specifically to meet your needs, 123Net's DIA solution delivers the utmost in performance, reliability and scalability.
Dedicated Connections
Engineered to be dedicated, symmetrical and scalable to meet your bandwidth needs, 123Net's network is available all the time.
Reliable Service
123Net's network core is built in a series of rings and is layer 3 protected. In the event of an outage, data is rerouted which keeps you connected. Local
support
teams are available 24x7x365 and the service is backed by an enterprise-grade
Service Level Agreement
.
IP Backbone
The 123Net backbone is connected to multiple Tier 1 carriers and peers utilizing BGP routing, creating the best in class routing environment.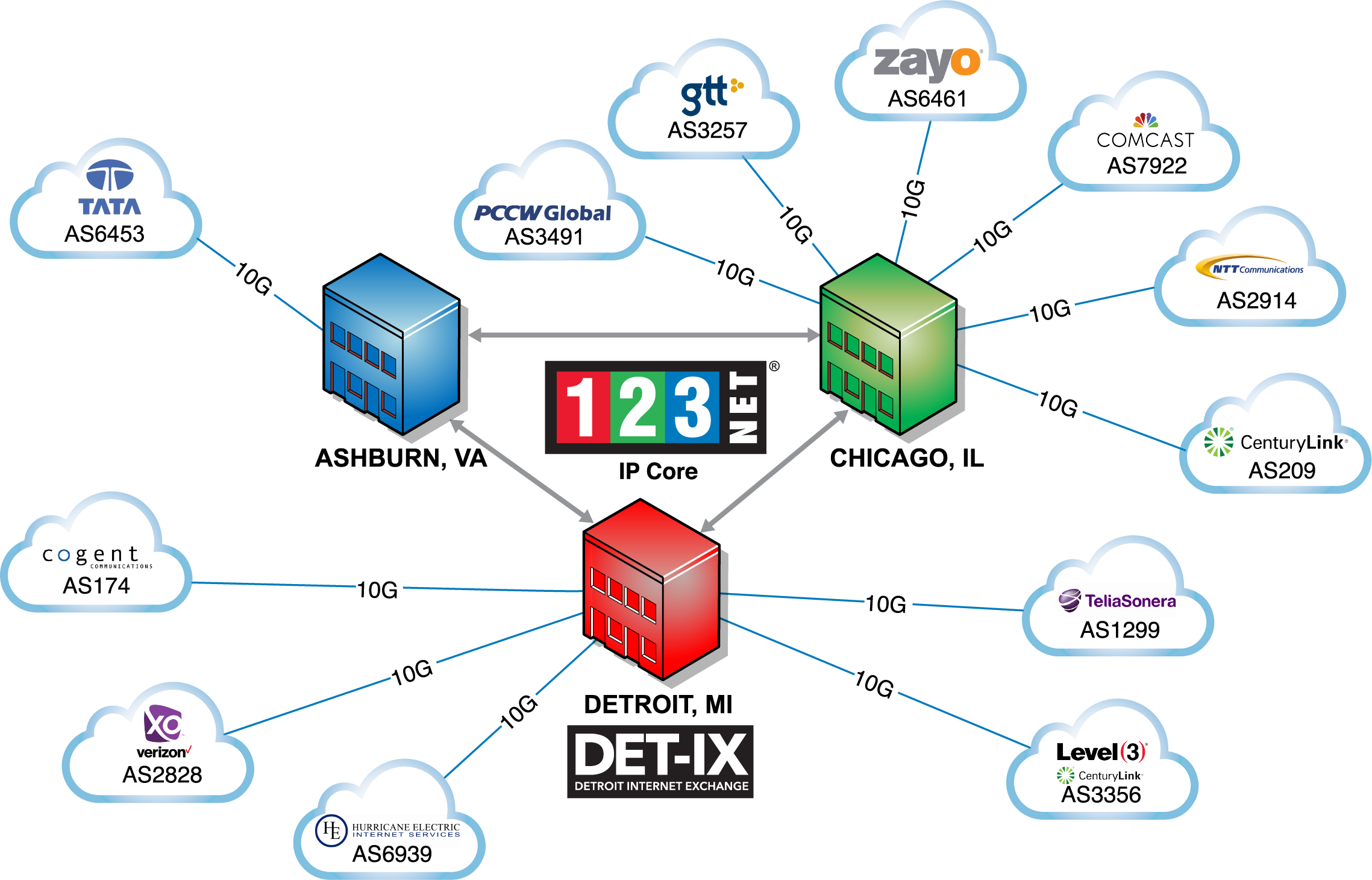 Dedicated Internet Access (DIA) Features
| Included Features | Description |
| --- | --- |
| IP Failover | Add a second internet connection for seamless failover |
| Service Level Agreement (SLA) | Our Internet access is backed by a 99.99% network uptime Service Level Agreement. |
| BGP Support | If you have high availability requirements, rest assured that our team of engineers can help. |
| Managed Router | Preconfigured settings, installation and ongoing maintenance support included. |
Dedicated Internet Access (DIA) Benefits
| Benefits | Description |
| --- | --- |
| Enhanced Availability and Quality | Using redundant IP network infrastructure. |
| Scalable Bandwidth | Options from 1.5 Mbps to 100 Gbps. |
| Web-based Tools | Easily monitor bandwidth capacity. |
| 24/7 Network Monitoring | Information on your connections, any time you want it. |
| Maximum Redundancy | 2(N+1) core infrastructure supporting connectivity from multiple major cities. |
Dedicated Internet Access (DIA) Capacity Port Speeds
| Transport | Speeds |
| --- | --- |
| Ethernet over Copper (EoC) | Symmetrical speeds up to 100 Mbps |
| Fixed Wireless | Symmetrical speeds up to 10 Gbps |
| Fiber | Symmetrical speeds up to 100 Gbps |
CALL or TEXT
888.440.0123